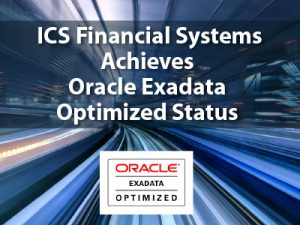 ICS Financial Systems Ltd. today announced it has earned Oracle Exadata Optimized status through Oracle PartnerNetwork (OPN), demonstrating that ICS BANKS 6.0 has been tested and tuned on Oracle Exadata Database Machine to deliver speed, scalability and reliability to customers. ICSFS is a global software and services provider of a universal modular, core banking systems, whose success can be attributed to its turnkey offerings; ICS BANKS, which serves and supports customers across the globe. ICSFS provides fully integrated banking and financial applications and services on premises, or in the cloud. ICSFS is a Gold level member of Oracle PartnerNetwork.
ICS BANKS software suite provides fully-fledged banking business modules with rich sweep of functionalities and features, addressing business needs and automating accounting processes, as needed, to improve a bank's business performance. ICS BANKS has always been a pioneer in utilising the latest technology to serve financial institutions to achieve the highest level of performance. Banks running ICS BANKS from ICSFS with Oracle Exadata Database Machine will enjoy a packaged, one complete solution with best-of-breed technologies, providing their customers with banking solutions that address today's industry challenges and demands in the most cost-effective way, while offering the agility to respond to the business and technology opportunities of tomorrow. ICSFS provides a complete integrated end-to-end solution that is easy to deploy, with ongoing maintenance and address scalability without complexity.
ICSFS's customers running with Oracle Exadata Database Machine will enjoy faster time to innovation, faster data compression leads to increased Return on Investment (ROI) and lower total cost of ownership (TCO). ICS BANKS generated 27x faster Digital Banking transactions throughput, 4.5x faster Interest Capitalization Batch processing over previous benchmarks allowing customers to exceed SLAs and improve service delivery, and supporting 4.5x larger customer accounts while still maintaining unmatched throughput, higher concurrent users and lower TCO.
Oracle Exadata Optimized is part of the Oracle Exastack Optimized program which allows partners, such as ICS Financial Systems Ltd., to leverage OPN enablement resources and dedicated lab environments to help develop, test and tune their applications on Oracle Exadata Database Machine, Oracle SuperCluster, Oracle Exalogic Elastic Cloud, Oracle Exalytics In-Memory Machine, Oracle Database Appliance and Oracle Big Data Appliance engineered systems. Oracle Exadata is built to dramatically improve database performance and maximize availability to help businesses drive topline growth through higher employee productivity, a better customer experience, and faster time-to-market.
By achieving Oracle Exadata Optimized status, Oracle recognizes ICS Financial Systems Ltd. for developing, testing and tuning ICS BANKS 6.0 with Oracle Exadata Database Machine. This accomplishment is a testament to ICS Financial Systems Ltd.'s ability to deliver the extreme performance and reliability customers require.
"Our relationship with Oracle is growing and rapidly evolving with today's rapid technology innovations. We are proud to state that our ICS BANKS testing on Oracle Exadata Database Machine results are the highest achieved to date." said Robert Hazboun, Managing Director, ICSFS. "ICS BANKS remarkable achievements are a testament to our commitment to our customers in providing new technologies that ensure end-to-end processing of financial transactions, minimize risk and increase the level of security, reduce cost and increase customers' return on investment (ROI), whilst addressing innovative banking and business trends."
"Oracle Exastack Optimized recognizes partners who have optimized their solutions on a complete, integrated and cloud-ready infrastructure in order to help them accelerate innovation, unlock new features and functionality, and deliver superior value to users," said David Hicks, Vice President, Worldwide ISV Cloud Business Development and Marketing, Oracle. "By achieving Oracle Exadata Optimized status, ICS Financial Systems Ltd. has demonstrated its ICS BANKS 6.0 is tested and tuned to work with Oracle Exadata Database Machine to help deliver optimum performance, scalability, and reliability to their customers."