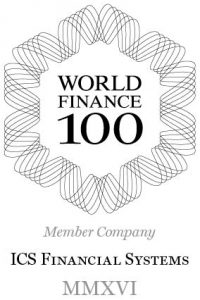 ICS Financial Systems Limited (ICSFS), the global software and services provider for banks and financial institutions, announced that it has been named a member of the "World Finance 100" in recognition of its excellence in the field of banking solutions.
Each year World Finance compiles the list of 100 individuals and companies – not according to capitalization figures or growth, but purely on excellence in their field. Research undertaken by the team at World Finance, along with the finest insight from the magazine's worldwide readership, has found the best names in critical markets around the globe, from financial services, technology and telecommunications to media, pharmaceuticals and healthcare. Perusing through the World Finance 100, which names those that have set new standards, introduced new opportunities to their markets and held steadfast their sustainability goals, readers will see that optimism is possible, even at times when we feel it least.
Managing Director of ICSFS; Robert Hazboun commented on this occasion,
"We are honored to have been selected for the World Finance 100. This kind of recognition proves that we are delivering on our promise to provide the bespoke state-of-the-art financial products and services, and best possible returns for our client's technology investment achievable anywhere." Mr Hazboun added; "Innovation is the key for banks to flourish in this digital era, that is why we provide our customers with the utmost advanced banking solutions and service offerings, to experience the true meaning of "one-stop shop".
And the Group Managing Editor 'of World Finance; Michael Mills commented:
"ICSFS Have been at the forefront of innovative Islamic and core banking software solutions for a number of years now.  Their attention to detail and individual client requirements in a very fluid industry has meant that they can offer a range of services that will ensure the delivery of a first-class banking service".
World News Media is a leading publisher of quality financial and business magazines, enjoying a global distribution network that includes subscriber lists of the most prominent and senior decision-makers around the world.
ICS BANKS provides a complete suite of banking modules with a rich sweep of functionalities and features, addressing business needs and automating accounting processes, as needed, to improve a bank's business performance. ICS BANKS has always been a pioneer in utilizing the latest technology to serve financial institutions. In addition to its embedded Service-Oriented-Architecture (SOA), the system is deployed in a multi-tiered setup that runs on a web thin client.