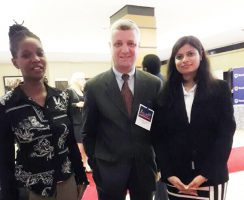 ICS Financial Systems (ICSFS), the global software and services provider for banks and financial institutions, showcased its multiple award winning Islamic banking software, ICS BANKS® at Finnovation Africa Convention which was held in Uganda at Sheraton Kampala Hotel on the 7th of April 2017.
The event was attended by more than 300 industry leaders representing over 100 international organizations. A powerful line-up of 36 international speakers and industry thought leaders & financial institutions with leading financial technology vendors from across the globe such as ICSFS discussed topics focused on the theme of: FinTech Impact for Africa – Financial Inclusion Through Innovation.
ICSFS' Executive Director for Business Development Mr. Wael Malkawi said; "We believe that Africa is the new success story, as we witness its leading journey heading towards the top, ICSFS is very proud to be part of it, new opportunities are being revealed." Malkawi added" the African market will enjoy our superior solutions and cutting edge products as we join Africa's emerging & flourishing markets"
ICS BANKS® provides a complete suite of banking business modules with a rich sweep of functionality and features, addressing business needs and automating accounting processes, as needed, to improve a bank's business performance. ICS BANKS® has always been a pioneer in utilizing the latest technology to serve financial institutions. In addition to its embedded Service-Oriented-Architecture (SOA), the system is deployed in a multi-tiered setup that runs on the latest oracle technology.