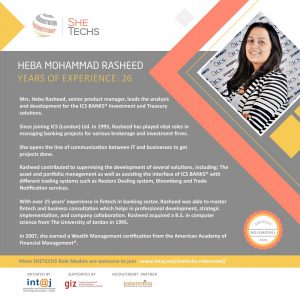 ICSFS Celebrates her SheTech Role Model
Recently, one of ICSFS' Senior Product Managers; Heba Rasheed, has been selected by Intaj as one of their SheTech Role Models. Mrs Rasheed shares her career journey and the challenges she faced as a woman in Fintech.
How did you start your career as a woman in Finetch?
My journey started with ICS in 1995, as a Junior Programmer in the Core Banking Department. Fast forward, 26 years later of hard work and eagerness to succeed, I am now a SheTech role model!
What challenges have you faced?
My first challenge in my career was back in 1997, where I was assigned a new project of building a dealing room system, fully integrated with our core banking system. Starting from scratch, my project became alive, I watched it grow from a small dealing room system to a holistic combination of business and technology software. Walking it through every footstep, I have studied and learned all about Investment, Treasury, Wealth Management, and Risk Management.
What are your most proud achievements?
Now, I am so proud to say that ICS BANKS Investment & Treasury software solutions are recognized and competing globally with its FX, MM, Debt Securities, Equities, Mutual Funds, Derivates, Asset & Portfolio Management, Risk & Return Analysis, and Multi-Market e-Brokerage systems.
I would like to thank The Information and Communications Technology Association of Jordan – Intaj for this powerful initiative, as it is a great opportunity to share my experience with fellow SheTechs, to empower female participation and contribution in this challenging field, and hopefully do my part by encouraging female Tech-savvy to excel in this sector.