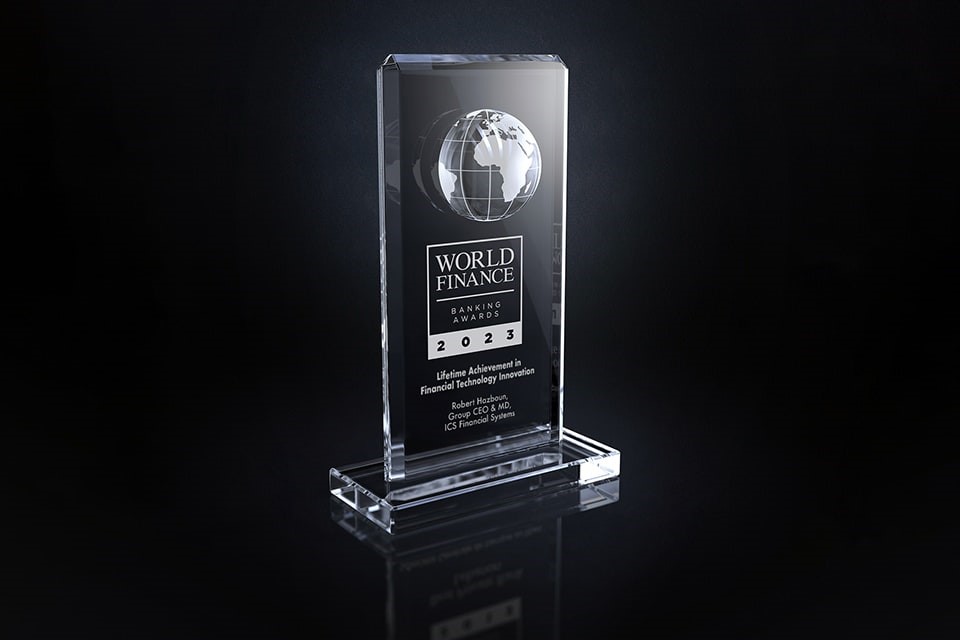 Mr. Robert Hazboun, Group CEO and Managing Director of ICS Financial Systems Ltd. – ICSFS, has been endowed with the prestigious Lifetime Achievement in Financial Technology Innovation award for the third time in a row. The accolade that was presented to him by World Finance Magazine – the voice of the Financial Market – celebrates his exceptional contributions & groundbreaking innovations in the field of banking technology.
With an illustrious career spanning over four decades, Robert Hazboun has been consistently committed to providing the best user-centric banking technology solutions with an exceptional focus on customer service, and under his guidance, ICSFS has emerged as a global leader in providing cutting-edge solutions for the financial sector.
This Lifetime Achievement award is a testament to Mr. Robert's genuine pursuit of innovation, excellence, and his profound impact on the financial technology landscape.
WORLD FINANCE is honoured to present Robert Hazboun with the 'Lifetime Achievement in Financial Technology Innovation' award for the third consecutive year. Robert's unwavering dedication to financial technology has been truly remarkable, and his business leadership has been nothing short of exceptional. Under his guidance, ICS Financial Systems has flourished, with cutting-edge software solutions that have set new standards in the marketplace. Robert's ability to empower his employees and extract the best out of them has been a driving force behind the company's success. He has always prioritized customer satisfaction and has worked tirelessly to ensure that ICSFS's solutions are tailored to meet the unique needs of each client. This award is recognition of Robert's outstanding contributions to financial technology and his exceptional leadership for many decades. We all at WORLD FINANCE congratulate Robert on this well-deserved honour and wish him continued success in the future.
Mr. Mustapha Belkouche, Project Director & Investment Consultant – World Finance
Upon receiving his award, Mr. Robert expressed his gratitude, stating:
I am deeply honored to receive this Lifetime Achievement award from World Finance for the third time; It is truly humbling to be recognized for my contributions to the field of banking technology. This award serves as a reminder of the incredible potential of technology to transform and revolutionise the financial industry. I am immensely proud of our team at ICSFS whose dedication and expertise have been instrumental to our success. I look forward to carrying on with our mission of driving innovation and delivering ground-breaking solutions to our clients.
Mr. Robert Hazboun, Group CEO & Managing Director
– ICS Financial Systems Ltd.
As Robert Hazboun's accomplishments are celebrated with this esteemed recognition, ICSFS remains adamant to driving disruptive growth in financial technology, solidifying their position as a leading force in the industry, and delivering agile and future-proof solutions to clients from around the globe.
ICSFS invests in its software suites by utilising modern technology in launching new products, constructing a secured and agile integration, and keeping pace with new standards and regulations worldwide. ICS BANKS® software suites future-proof banking activities by providing a broad range of features and capabilities with more agility and flexibility, to enrich customers journey experience, hence improving the trust and confidentiality between the customer and the bank. ICS BANKS® has always been a pioneer in utilising the latest technology to serve financial institutions. In addition to its embedded Service-Oriented-Architecture (SOA), the system can be deployed on-premises, hybrid, or cloud.