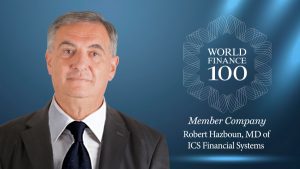 World Finance,  the voice of the market magazine, awarded  ICS Financial Systems Limited (ICSFS)' Managing Director; Robert Hazboun, in its World Finance Winter 2020 edition, as one of its World Finance 100 individuals and business in financial services that have outstanding enterprise and kept pushing their industries forward.
The individuals and organizations acknowledged by the World Finance 100 have been recognised for their ability to lead their respective industries even in unfavourable conditions.
The WF100 Awards now in its 11th year, celebrates those who have reached the pinnacle of achievement across a wide variety of fields of expertise, as well as those organisations and individuals that lead the way in driving their industries forward. Each year World Finance compiles the list of 100 individuals and companies – not according to capitalisation figures, but purely on excellence in their field. The list presents the new business elite, made up of those whose vision and enterprise shapes the conceptual landscape of finance, business and technology. The WF100 Research and Due-diligence Teams appraises the invaluable nominations, suggestions and contributions of WORLD FINANCE readership and media partners to unearth the best and the brightest pioneers in business today.
Investment Consultant & Awards Administrator at World Finance Magazine; Mustapha Belkouche, stated:
"Mr Robert Hazboun, Managing Director of ICS Financial Systems, has been admitted to the 2019 WF100 for business leadership and exceptional vision. He has demonstrated outstanding enterprise and entrepreneurial flair that created a stimulating and supportive work environment for his staff which resulted in a well-motivated, ambitious and integrated workforce. His corporate dexterity and detail-orientated client relations have delivered bespoke FinTech solutions and forged new global standards making a significant positive impact on investors and customers. Mr Robert Hazboun's forward-thinking approach to the progress of banking & finance around the world has really pushed the envelope with both poise in continuous innovative strategy and commitment to client satisfaction."
Managing Director of ICS Financial Systems; Robert Hazboun, commented;
"I am truly humbled and honoured to be acknowledged amongst the 2019 WF100. I would like to share this with ICSFS' community; our employees and customers. This recognition would not have been possible without their collaboration, their support and encouragement that led us to our success today. "
ICSFS invests in its software suites by utilising modern technology in launching new products, constructing a secured and agile integration, and keeping pace with new standards and regulations worldwide. ICS BANKS software suites future-proof banking activities by providing a broad range of features and capabilities with more agility and flexibility, to enrich customers' journey experience, hence improving the trust and confidentiality between the customer and the bank. ICS BANKS has always been a pioneer in utilising the latest technology to serve financial institutions. In addition to its embedded Service-Oriented-Architecture (SOA), the system can be deployed on-premises or in the cloud.