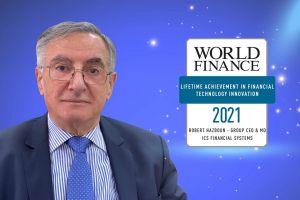 World Finance,  the voice of the market magazine, awarded  ICS Financial Systems Limited (ICSFS)' Managing Director; Robert Hazboun, in its World Finance Summer 2021 edition, under the World Finance – Islamic Finance Awards 2021, for his Lifetime Achievement in Financial Technology Innovation.
Mr. Robert Hazboun, Group CEO & MD of ICSFS, received this year 'Life Achievement in Financial Technology Innovation' by WORLD FINANCE to honour his significant long-term achievements in financial technology and his effective visionary leadership from establishing and sustaining ICSFS to making its ICS BANKS software solution the global brand that meets all evolving needs of banks worldwide. It's with great pleasure to award this accolade to Mr. Robert Hazboun in recognition of his lasting and substantive contribution to the improvement and advancement of banks, demonstrating throughout the highest standards of commitment to innovative use of technology and excellence. My heartfelt appreciations and congratulations to everyone at ICSFS for their very deserving wins. Thank you all for your dedication towards advancing the Islamic finance through technology and I am truly proud to be honouring MR Robert Hazboun and ICSFS.
– David Hann, Projects Director ,World Finance Magazine
ICSFS invests in its software suites by utilising modern technology in launching new products, constructing a secured and agile integration, and keeping pace with new standards and regulations worldwide. ICS BANKS software suites future-proof banking activities by providing a broad range of features and capabilities with more agility and flexibility, to enrich customers' journey experience, hence improving the trust and confidentiality between the customer and the bank. ICS BANKS has always been a pioneer in utilising the latest technology to serve financial institutions. In addition to its embedded Service-Oriented-Architecture (SOA), the system can be deployed on-premises or on the cloud.
It is a true privilege to have been recognised by the reputable and global World Finance magazine. I would like to dedicate this lifetime achievement to ICSFS' employees and clients who are the gems of our innovation success. Despite the challenges the Banking & Finance industry has faced from the COVID-19 pandemic, it has a promising future of continued growth, accompanied by its thorough adoption of Open and Digital Banking. I am proud of our achievements during the past year; where we have utilised all facets of innovative and agile technology and employed them into our products and services' DNA. I would like to seize this opportunity and thank World Finance for this prestigious and honourable award.
– Robert Hazboun, Managing Director, ICS Financial Systems.