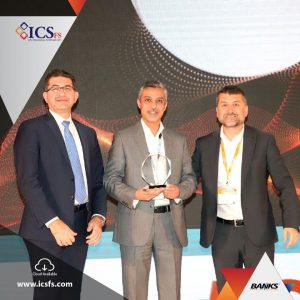 ICS Financial Systems (ICSFS), the global software and services provider for banks and financial institutions, and a Gold level member of the OraclePartnerNetwork (OPN), has received ISV Partner of the Year at Oracle Partner Executive Forum – Levant & Egypt.
Oracle Partner Executive Forum – Levant & Egypt was held in Jordan at W Hotel Amman, on December 18, 2019. The forum is an annual exclusive invitation-only event, it highlighted the "Power of Together," where it focused on innovation and alignment of strategy with Oracle's partners to drive forces and network among the industry's best. Oracle partners were recognized for their exceptional contributions and successes in an ever-so-exciting state-of-the-art environment.
ICSFS was recognised by Oracle for:
Bringing Oracle's latest innovations to the  industry.
One of the first ISV partners to certify and list its banking solutions on Oracle Cloud Marketplace for production use to its clients.
One of the first Oracle ISV partners in the region onboarded onto Oracle Fintech & Open Banking API MarketPlace.
One of the first to implement applications on Oracle Blockchain Platform in production and closed two deals in 2019.
Achieving record-breaking and unmatched results of its ICS BANKS software suites high-water mark performance benchmark on Oracle Exadata Cloud at Customer.
Consistent commitment and innovation by adopting Oracle Cloud's strategy.
An early adopter of Oracle Autonomous Transaction Processing (ATP), Oracle Data Safe, Oracle JET, Visual Builder and Oracle 19c to assist banks with their digital transformation journey.
ICSFS Managing Director; Robert Hazboun said: "ICSFS outrivals its peers by high-performance records and innovative technologies offered to its customers. We are honoured to be rocognised by Oracle as their ISV Partner of the year. This embarks another testament to our dedication and commitment to embracing business agility as a primary core driver in our products and services provided to our customers."
ICSFS has demonstrated an outstanding level of innovation in delivering proven, Oracle-based Financial solutions that solve our joint customers' most critical business challenges," said Javier Torres, vice president, Alliances & Channels and ISV, EMEA and APAC, Oracle. "We congratulate ICSFS in achieving the ISV Partner of the Year Award  at the Oracle Partner Executive Forum. This achievement is a testament to their dedication to excellence and to providing customers with Oracle Financial Solutions that drive real business value and results."
ICSFS invests in its software suites by utilising modern technology in launching new products, constructing a secured and agile integration, and keeping pace with new standards and regulations worldwide. ICS BANKS software suites future-proof banking activities by providing a broad range of features and capabilities with more agility and flexibility, to enrich customers' journey experience, hence improving the trust and confidentiality between the customer and the bank. ICS BANKS banking and financial solutions have always been a pioneer in utilising the latest technology to serve financial institutions. In addition to its embedded Service-Oriented-Architecture (SOA), the software can be deployed on-premises or in the cloud.