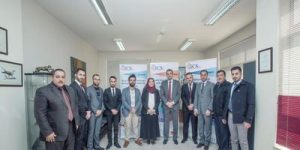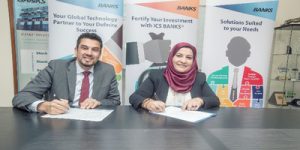 ICS Financial Systems Limited (ICSFS), the global software and services provider for banks and financial institutions, announced that International Islamic Bank (IIB), a newly established bank in Iraq, has selected the multi-awards winning system ICS BANKS® ISLAMIC.
International Islamic bank (IIB) is a newly registered Iraqi bank that will be offering banking and financial services in Iraq.  IIB will be implementing ICSFS' universal Islamic flagship, ICS BANKS ISLAMIC, and will be provided with its world-class fully integrated banking solutions that are designed and developed following the principles of Shari'a of which;  ICS BANKS ISLAMIC Core Banking,) Murabaha, Musharaka, Ijara, Istisnaa, Mudaraba, Salam, Qard Hasan, Time Deposit, Profit Distribution( Trade Finance, Credit Facilities & Risk Groups, Remittances, ICS BANKS Internet Banking and SMS Banking, and ICS BANKS ERP Suite; Fixed Assets, Accounts Payable, Procurement to drive automation and innovation within its various banking operations and business requirements.
The signing ceremony took place at ICSFS' regional office in Amman, Jordan. Attending the ceremony were the Deputy CEO of International Islamic Bank; Mrs. Suha Al-Kifae, Deputy Chairman of Board of International Islamic Bank; Mr. Haider AL-Baghdadi and the Executive Director of Business Development at ICSFS; Mr. Wael Malkawi.
Following the signing ceremony, Deputy CEO of International Islamic Bank; Mrs. Suha Al-Kifae commented:
"As our business will be starting to grow domestically and internationally, we were look
ing for a powerful partner that is able to cover and understand all minor and major financial operations, to assist us in streamlining and delivering the bespoke products and services to the international and local market. That is why we have selected ICSFS to be our technology partner. On another hand, ICSFS is very well known for its wide expertise in the Iraqi financial banking sector, we are confident that we will be able to improve our operational efficiency, and provide the utmost products and services to our customers by banking on ICS BANKS ISLAMIC."
On this occasion, the Executive Director of Business Development at ICSFS; Mr. Wael Malkawi commented:
"We are proud of our remarkable success in the Iraqi market, as we are expanding across the country and are receiving the highest-ranking figures amongst our peers." Malkawi continued; "A wide bright future is set for ICSFS' goals and targets in this market, as our banking solutions are being favored. We are glad that International Islamic Bank has joined us in our flourishing journey where the bank will definitely enjoy ICS BANKS ISLAMIC unlimited offerings and advantages."
ICS BANKS ISLAMIC provides a complete suite of banking business modules with a rich sweep of functionalities and features, addressing business needs and automating accounting processes, as needed, to improve a bank's business performance. ICS BANKS ISLAMIC has always been a pioneer in utilising the latest technology to serve financial institutions. In addition to its embedded Service-Oriented-Architecture (SOA), the system is deployed in a multi-tiered setup that runs on a web thin client.