The company shaping the Islamic bank of the future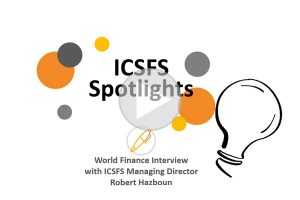 ICS Financial Systems is recognized worldwide for its digital innovation and its Shariah-compliant software is extending both its customer and client base
The modern Islamic finance industry is young but evolving rapidly, serving a growing population of Muslims as well as non-Muslims. According to the Global Islamic Finance Markets Report 2019, the industry's total worth, in conjunction with key industry stakeholder organizations across its three main sectors (banking, capital markets and takaful), was estimated to be $2.05trn in 2017, marking an 8.3 percent growth in assets in USD terms.
Shariah stipulation is a prime driver of digitalisation and ICS Financial Systems (ICSFS) is one of the first providers of Islamic banking software applications in the industry, with a customer-first approach and streamlined services of its epic best-of-breed technologies. World Finance spoke with the company's managing director Robert Hazboun to learn about the challenges of digitalising Islamic banks.
How has the pandemic hastened digital changes for the bank?
The pandemic has forced the Islamic banking industry to quickly grow its market ecosystem by embracing new digital trends. We saw Islamic banks taking the lead in adopting digital transformation, and I believe we will see a significant increase in the adoption of Islamic Shariah-compliant products by many conventional banks, and even countries. The pandemic has also accelerated the creation of Islamic fintechs, which are embracing digital tools in every step of the customer journey, from onboarding to digital lending and automatic payments.
What do you consider the key essentials for the Islamic bank of the future?
It must create innovative product strategies to meet customer expectations and trends, by studying and analysing behaviour. Consumer behaviour is constantly changing – millennials are referred to as tech-savvy and now Generation Z is the tech-native generation.
The Islamic bank of the future must embrace dynamic product building with business intelligence (BI), artificial intelligence (AI), robotics and vast touchpoints coverage with omnichannel experience. It is also essential to embrace fintech's agility to take advantage of the opportunities that its innovations are bringing to the market. Islamic banks need business technology partners that provide financial inclusion, full coverage of Islamic finance, open banking, cloud availability and, most importantly, RegTech solutions.
What are the biggest challenges you and your customers face in becoming an effective digital presence?
Islamic banking is an interest-free investment house rather than the interest-based money lending institute model of conventional banking, which would lead to sharing profit and risk. This can cause a number of challenges.
There are major Islamic finance Shariah standards such as AAOIFI and IFSB.
Also, various intellectuals look at Islamic financing differently, with each country, region and even bank having its own Shariah board to set rules and regulations. Having an interconnected Islamic finance ecosystem that covers all lines of business is therefore essential. Islamic finance is based on a trade contract, and contract control is a major undertaking. Precise paperwork is a must for contracts and handling them is a difficult issue.
The pandemic has forced the Islamic banking industry to quickly grow its market ecosystem by embracing new digital trends
Another challenge is that there is no single methodology used for product development. Additionally, Shariah regulations obligate the bank to have constant interactions with the customer, so maintaining focus on the customer is difficult.
One of the major challenges that ICSFS has seen as an Islamic banking software provider is that many Islamic banks have embarked on product-led digital solutions rather than taking a holistic approach. Another is that since Islamic banking products must be Shariah-compliant, the processing cycle takes a long time because more manual processes are needed.
Also, there is no standardisation or harmonisation of documentation, which increases the cost of transactions compared to conventional peers. All banks face challenges. We must all apply operational risk management, and have solid cyber security and business continuity strategies to be able to expand our digital offerings.
How does your ICS BANKS Islamic banking software suite provide the key essentials for a true Islamic bank and what benefits does it bring to clients?
ICSFS is one of the first providers of Islamic banking software applications in the industry, with a customer-first approach and streamlined services for its best-of-breed technologies. ICSFS launched its ICS BANKS Islamic banking software almost 20 years ago, based on Shariah law and with the aim of covering the full Islamic finance ecosystem cycle.
The suite is designed to cover all Islamic banking requirements and cater to each bank's Shariah regulations, with agility one of its core virtues. It provides Islamic banking essentials such as a strong, flexible, fast and reliable industry-approved profit distribution engine.
It also provides full Shariah-compliance, covering the various intellectual Islamic views in different regions. It utilises business process management (BPM) and a document management system (DMS) to help automate processes and save time. Additionally, it offers extensive customer engagement through omnichannel touchpoints and open APIs to connect to the outside world and support fintech activities.
Explain how your software works with cloud banking and what are the benefits.
The software's unique features allow any bank to compete in the market, and can be deployed either in a fully-fledged Islamic bank, or as an Islamic window for a conventional bank.
A DMS enables a fast-accurate flow of documents. The software is built based on AAOIFI and IFSB standards, with the capability of accommodating various intellectual standards and local Shariah regulations. Constant interaction with the customer is made during processes via various omnichannel touchpoints.
Geographical and transaction limits are fading away because of robotics, AI and digital coverage, while the online reporting and inquiries tools such as business intelligence (BI) and management information system (MIS) and cloud reduce infrastructure costs.
Digital touchpoints include open banking, open API architecture and a holistic cloud platform for real financial inclusion. It profiles customer engagement offering unified solutions with smooth processes across business lines for increased customer satisfaction and loyalty.
We offer high security and scalability. Our dynamic product building offers RegTech solutions and adopts an agile approach to drive productivity and efficiency, stop revenue leakage and increase profitability. Combined, this offers a lower total cost of ownership (TCO) and time to market. Our Islamic banking software is fully integrated and provides open products with international standards, real-time business processing and the value-added capabilities of tailoring products, on-premises or on the cloud. It future-proofs banking activities by providing a broad range of seamless and flexible features.
Are there advantages to being more digital in this time of myriad regulations?
The regulation is a critical challenge in having a digital presence. Shariah-compliant products have a long processing cycle. An automated process tightens the cycle while keeping operational costs at a minimum and maximising revenue and growth. Our software adds a competitive edge. Banks can rely on banking and financial technology providers to refine their Islamic products to suit their clients' needs while addressing regulations and remain Shariah-compliant.
Looking into the future, innovation of processes and modernisation of the delivery of products that are Shariah-compliant are key.
ICSFS has always been one of the leading companies in providing award-winning banking and financial services and best-of-breed products. It is recognised on a global level for its devotion to excellence and customer satisfaction. ICS BANKS Islamic is no exception to this rule. The software was built brick-by-brick on delivering real value to customers and is designed to be hassle-free with customer satisfaction at the top of the agenda. From trouble-free implementation, through support for its wide range of functionalities and features, to peace of mind on free upgrades, it keeps customers' operational costs at a minimum, while maximising revenue and growth.