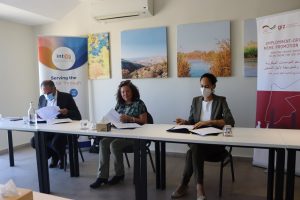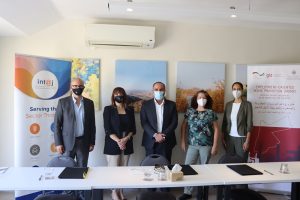 The Information and Communication Technology Association of Jordan (int@j) has signed a cooperation agreement with the "Employment-oriented MSME Promotion" Project (MSME) implemented by the GIZ on behalf of the German Federal Ministry of Economic Cooperation and Development (BMZ). The agreement was signed by Mr. Amjad Swais, the newly elected Chairman of int@j, Ms. Elisabeth Girrbach, GIZ Jordan Country Director, and Ms. Diana Hollmann, GIZ MSME Project Lead, in the presence of Ms. Ruba Darwish, Board Member of int@j and Head of the SHETECHS initiative as well as Mr. Nidal Bitar, int@j's CEO.
This agreement aims at improving the conditions for women's participation in the digital economy in all possible roles, be it in management or as technical staff.
The two parties will develop and implement a strategy to integrate women's economic empowerment into their activities, strengthen specialised research on data of women's participation in the digital economy, and collect best practices in the global digital economy to strengthen evidence-based decision-making.
Ms. Darwish said that the agreement contributes to the efforts of int@j in empowering women in the information and communication technology (ICT) sector, which will be in the interest of the companies in the sector. She also pointed to the role of the initiative in qualifying females, especially in the southern governorates, to acquire the necessary skills to work using technology and the internet.
Darwish noted that int@j always strives to overcome the obstacles facing women's work in the information technology sector by identifying the needs and priorities, as well as exchanging knowledge and experience in the field of work, in order to develop the capacities of women working or willing to work in this sector. Furthermore, she emphasized the importance of the partnership between int@j and GIZ to develop and implement activities in the field of education and communication in a participatory manner with key stakeholders, partners from the government and the private sector, educators, researchers and civil society actors.
In a statement issued by GIZ Jordan, Ms. Girrbach congratulated Mr. Swais and Ms. Darwish for being recently elected to the int@j Board of Directors.
She added that globally as well as in Jordan, GIZ has long been engaged in working with its public and private sector partners on women's economic empowerment and gender equality with the aim of creating prosperity for all people: "Our efforts through the regional project EconoWin in promoting gender diversity management in large businesses and our support of the vocational training initiative SHETECHS of int@j are just two examples of our work in this important area."
Commenting on the agreement, Ms. Diana Hollmann, Team Leader of the GIZ MSME project added: "We appreciate having int@j as a committed partner in the ICT sector to promote women's economic empowerment. By joining forces to help increase women's participation in the ICT sector we aim at improving growth opportunities for micro-, small- and medium-sized enterprises in Jordan more broadly. Accordingly, and building on our previous cooperation with the SHETECHS initiative, we support int@j in the development of a specialized unit on this topic. Establishing a strategic network for women in tech will facilitate this aim."