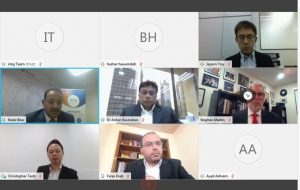 Amman 26 of August
During a virtual event, the Information and Communications Technology Association of Jordan (int@j), announced the launch of the first international Internet of Things certification in Jordan and the Arab world, offered in partnership with the Global ICT Training & Certification from Singapore and its Authorized Partner, Connection of Things (COT) Company (Jordan).
Speakers at the recently held virtual launch event included Telecommunications Regulatory Commission (TRC) Chief Commissioner Dr. Ghazi Jbour, int@j Chairman Dr. Bashar Hawamdeh, GICT Chairman Prof. the Hon Stephen Martin, GICT Founder Dr. Anton Ravindran, GICT Associate Director Dr. Christopher Teoh, and COT CEO and Founder Eng. Feras Diab.
This certification is part of the Memorandum of Understanding signed between int@j and GICT, during His Majesty King Abdullah II's visit to Singapore in June 2019; Aims of this MOU is to establish a framework of institutional cooperation between both parties.
int@j Chairman Dr. Bashar Hawamdeh welcomed the guests from Singapore as well as the other participants. He also emphasized int@j's role in facilitating the GICT-COT partnership to offer this very first certification in Jordan and the Arab world.
Dr. Bashar Hawamdeh stated that in terms of training and qualifying a generation to work with modern technology and big data towards a technologically advanced future—this certification comes at a crucial time, adding that the future would demand everyone to be digitally savvy.
He added that the Internet of Things will is rapidly being integrated and adopted by all verticals/domains of the industry, government, and society.
TRC Chief Commissioner Dr. Ghazi Jbour said that the country is looking forward to applying the latest technologies used worldwide and that a clear strategy will be introduced for the adoption of Internet of Things in all sectors.
He added that the Commission has reached a decision last month on the Internet of Things as an enabler for numerous services and across different sectors including water, electricity, and transportation, as Jordan has the capabilities to leverage from the advances in technology. He expressed his pleasure of the partnership between Jordan and Singapore in this field, as Singapore is at the forefront of ICT worldwide.
GICT Founder & CEO Dr. Anton Ravindran stated, "The future of IoT has limitless potential and its impact will be greater than the web. Advances to IoT will accelerate through increased network agility, artificial intelligence (AI), and continued advances in cloud and edge computing. He added that a lack of skills and security are among the challenges generally facing optimistic IoT adopters. GICT's IoT training and certification will help you build and enhance your skill sets."
GICT Chairman Prof. the Hon Martin said, "The world we live in today is significantly different from what it was 5 or 10 years ago and the pace of change continues to rapidly increase. Technology-driven by digitization has unraveled new paradigms. GICT's ICT certification programs are offered in the region through its partner network. These programs are offered both in the classroom as well as virtual and have trained and certified thousands of IT professionals over the last decade."
COT CEO Feras Diab stated that the training & certification program is scheduled to begin within a month. He stressed that this training and certification program enables recipients to acquire the skills necessary for deploying the Internet of Things applications. He added that such programs will assist in "building a career" and not merely "finding a job" by transferring technical know-how and expertise.
Mr. Diab further commented that it was time that these professional programs enter Jordan and that the Internet of Things provides huge potential for startups, allowing them to grow in the region.
He added that Jordan is late to leverage from IoT to develop smart cities and called for concerted efforts between the government, universities, and companies to create a suitable environment to leverage from Internet of Things.
He added that the TRC has approved several protocols related to the Internet of Things and that local telecom companies have begun to adopt and implement IoT solutions, as they are a major driver for the ICT sector.
He also thanked int@j and GICT Training for their support towards this initiative.