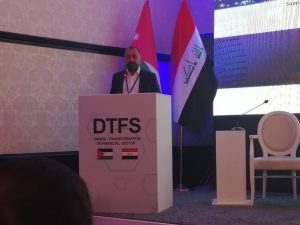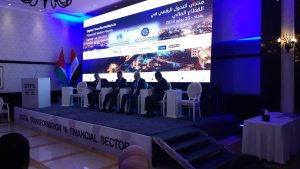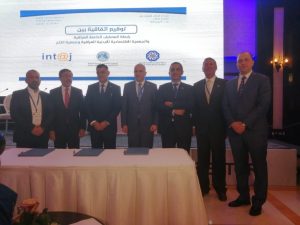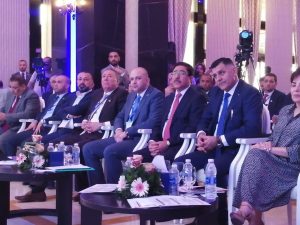 The Information and Communications Technology Association of Jordan (int@j) emphasized the importance of the Jordanian-Iraqi Digital Transformation Forum -organized by Jordan-Iraqi Economic Association, the Iraq Private Banks League, and the International Finance Corporation in collaboration with int@j -conducted last Wednesday in the Iraqi capital Baghdad, which will provide great investment opportunities between Jordanian companies and Iraqi entities operating in the financial sector in the near future.
Over 200 people participated in the forum, including representatives of 30 Jordanian IT companies. Attending were Chairman of the Board of Directors Dr. Bashar Hawamdeh, the Minister of Digital Economy and Entrepreneurship, the Iraqi Communications Minister, the Governor of the Central Bank of Iraq, and Jordanian Ambassador to Iraq Muntaser Oqlah.
In the forum's opening speech, Dr. Hawamdeh said that the establishment of this forum provides an opportunity for Jordanian companies to discuss real investment opportunities, especially as all parties involved came from the Jordanian and Iraqi governments and private sectors.
He said that numerous Jordanian companies were successful in creating big projects in numerous regional countries, proving their ability to develop technology services and solutions that serve the Iraqi market.
He pointed out that Int@j has been intensifying meetings with Iraqi authorities to increase networking with Jordanian companies in many areas within the ICT sector, especially digital transformation.
Int@j CEO Nidal Bitar gave an opening presentation, explaining that Jordanian IT companies have experience and success stories locally, regionally, and across the Arab world.
He said that Jordan leads Arab countries creating Arab content on the Internet, contributing 75% of total Arab digital content.
During the forum, a tripartite agreement was signed between Int@j, the Jordan-Iraq Economic Association, and the Iraq Private Banks League, with the aim of framing and intensifying joint work efforts between the three parties to further exchange experiences and maximize mutual benefit.