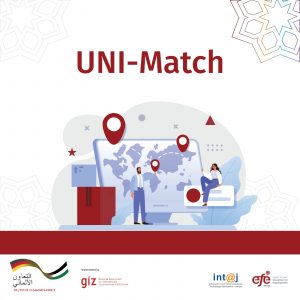 In cooperation with the GIZ-implemented project Employment in Jordan 2030 (EJ2030) and Education for Employment-Jordan, the Information and Communications Technology Association "int@j" is currently realising the Uni-Match Project. Under this measure, int@j offers a comprehensive business development model in the information technology outsourcing (ITO) sector aimed at enhancing export opportunities for Jordanian companies in regional and global markets, thereby creating new employment opportunities.
int@j will in particular create business opportunities for 10 Jordanian companies in the Gulf States and Iraq, as well as in the European Union. This is supported by an in-depth analysis of the companies' strengths to identify the added value of the services they provide, as well as promotional and liaison activities in the target markets.
Engineer Nidal Bitar, the CEO of "int@j", explained that the Uni-Match project will help the selected companies to improve their capabilities to acquire new business opportunities in ITO in international markets. He also confirmed that this project will lay the foundation for the sustainable establishment of a competent unit at "int@j" (Business Development & Readiness Unit – BDRU) that will support all interested member companies in realising export opportunities in the ITO sector in the future.
This project, Bitar noted, will take a demand-driven approach, providing technical training to 250 jobseekers (30% of whom are women) in line with the needs of the selected 10 ITO companies.
The CEO of Education for Employment-Jordan (EFE-Jordan), Dr Ghadeer Khuffash, added that the project is in line with EFE's vision to empower youth and women by supporting the growth of private businesses and connecting them to new opportunities in the global market, especially in the Gulf countries and the European Union.