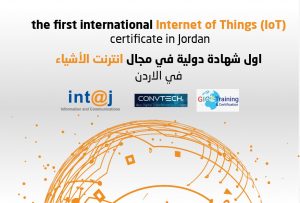 The Information and Communications Technology Association of Jordan (int@j), jointly with CONVTECH are offering the first international Internet of Things (IoT) Training and Certification Programs in the Arab world offered by the Global ICT Training and Certifications Pte Ltd from Singapore.
The training, which will take place in Amman, is part of a memorandum of understanding signed last June between inta@j with the GICT Training & Certification (GICT) with the aim to establish an institutional framework for cooperation between the two parties.
The Internet of Things (IoT) is a new term referring a new generation of the Internet (the network) that allows communication between interconnected devices, which include devices, sensors, tools, different AI tools, and more.
Int@j Chairman Dr. Bashar Hawamdeh said" IoT training was based on the best international practices and a fantastic opportunity for interested opportunities, as the IoT will not monopolized by a country, region, or a company, but it will, given the tremendous speed at which technology moves, be available worldwide"
Dr. Hawameh said that partnering with GICT will mean building strong IoT capabilities and expertise, stating that this partnership is important because of the excellent curriculum developed by GICT.
CONVTECH CEO Feras Mahmoud Diab said that the company will be IoT provider and training partner, adding that it would be providing training on IoT and granting accredited certificates.
Diab said that the certificate will be the first of its type in the Arab world and not just Jordan; graduates will be given certificates accredited by the GICT in the field of the Internet of Things.
He added that this certificate enables recipients to work professionally on the IoT, adding that training will not be limited to one field, instead enabling programmers, developers, system analysts, and others to benefit, as the Internet of things overlaps with all sectors.
He said that this training, coupled with the international certification, is key to a world entering its Fourth Industrial Revolution, adding: "We have to prepare to stay apace on this journey."
GICT President Dr. Anton Ravindran said, "Businesses need to take meaningful steps to upskill the current and future workforce to be ready for the rapid advances that we experience in todays' digital economy. We are delighted to collaborate with Int@J to offer the training and certification programs on IOT as well as Machine Learning and Big Data in Jordan and the region. These programs will be offered to both Industry professionals and Universities students".
GICT Chairman (of the Board of Training & Certification) Prof. the Hon Dr Stephen Martin said "We are excited about this partnership and for being able to contribute to knowledge and skills transfer to the ICT professionals in the Middle East and Jordan".