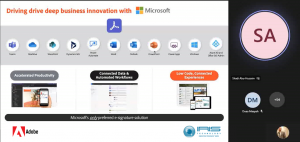 IRIS Technology has collaborated with Adobe to conduct a live webinar to take IRIS Technology clients through the Adobe Sign journey along with the integration of different Microsoft applications.
Adobe Sign is the Preferred electronic Signature solution by Microsoft with an out-of-the-box integration for most of Microsoft technologies.
The Webinar "Transform for Business with Adobe Digital and Electronic Signature Solutions"  has discussed how Adobe Sign delights customers at any time, anywhere signing while complying with the most stringent electronic signature laws and regulations.