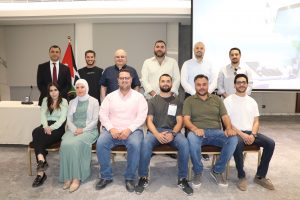 The Jordan Payments and Clearing Company "JoPACC" announced the launch of its first ever Incubation Program, through its newly inaugurated JOIN Fincubator. The Incubation Program, which officially began its first session on July 2nd, aims to enable qualified fintech startups to develop their initial business models by providing them with an array of support services that will ultimately enable them to launch their solutions in local and global markets.
It is worth noting that a prerequisite Bootcamp Program was held prior to the start of the Incubation Program, where the thirty participating teams were equipped with basic knowledge about the financial sector. The Bootcamp Program enabled the teams to prepare their initial business model canvases and verify that their fintech ideas are aligned with market needs. Out of the thirty participating teams, sixteen teams qualified for the Incubation Program, whose fintech ideas served different industries including real estate, e-commerce, finance and banking, and included topics such as credit scoring, and financial management.
JOIN's Incubation Program comprises three main phases, firstly, the "Validation Phase" focuses on validating the participant's proposed fintech solutions and ensuring that these solutions are products or services that solve real problems. This phase, which spans four weeks, includes workshops on applying "Lean Startup" methodologies, getting accustomed to startup legislations, conducting market research and analysis, and getting feedback from mentors.
The second phase, or the "Shaping Phase," extends over eight weeks, during which the startups define their target customers, identify their needs, and develop the best strategies to attract them. This phase additionally sees participants trained on different topics, including effective leadership and negotiation skills, customer acquisition and retention, branding, marketing, communications, business development, and sales.
The third phase, the "Building and Developing Phase," extends over eight weeks and features the actual process of building and developing prototypes or Most Viable Products "MVPs" that meet and serve market needs. This final phase ends with a "Demo Day," where startups present their MVPs and pitch their solutions to potential investors and financial institutions, providing them with access to funding and finance. This year's "Demo Day" is expected to take place between November and December in JOIN Fincubator's Yearly Summit, which will celebrate JOIN's most notable milestones and accomplishments throughout the year.
JOIN Fincubator is considered to be a launching platform for innovators and startups that enables them to test and develop their fintech solutions. Moreover, JOIN provides its participants with a range of resources, including access to a sandbox, infrastructure, expertise, and training, and partnerships. JOIN further facilitates access to different markets, and funding opportunities, allowing startups to passport their innovations to regional and international markets.