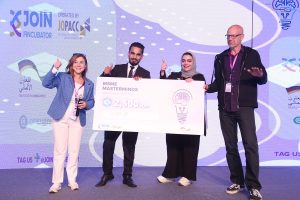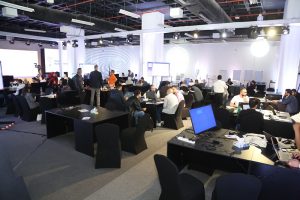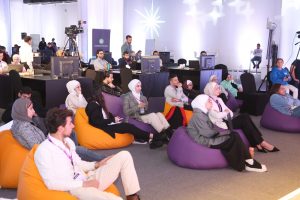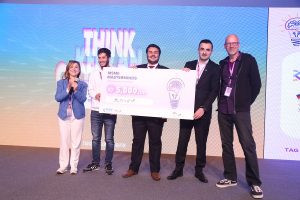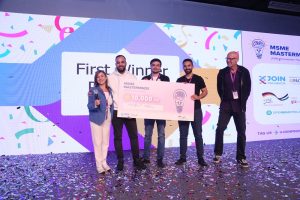 JOIN Fincubator, JoPACC's newly established fintech incubator, has successfully hosted its first fintech hackathon: MSME Masterminds. The hackathon was organized in collaboration with the Open Bank Project and was sponsored by the GIZ Implemented Project: Innovative Approaches for the Financial Inclusion of MSMEs In Jordan (I-FIN). The hackathon lasted for 72 hours and took place in Amman, Jordan, bringing together 69 participants from different governorates who formed 23 diverse teams that included students, business developers, coders, designers, and entrepreneurs.
Over the course of three days, the teams enthusiastically attended several sessions offered by experienced mentors who provided guidance and support throughout the hackathon. These sessions included an API workshop, a UX clinic, and pitch training to ensure that teams were well-equipped to address at least one of the five main challenges highlighted by the hackathon which attempted to drive access to financial services for micro, small, and medium-sized (MSMEs). The five challenges were:
Innovative risk management and mitigation approaches for MSMEs financing and access to financial services,
2. Innovative products and services to support MSMEs financing and access to financial services,
3. Innovative process management and optimization to reduce costs and enhance efficiency,
4. Innovative credit data and scoring models for MSMEs,
5. Innovative products and services to support the needs of women-led/owned MSMEs,
6. Other related themes for access to innovative financial services for MSMEs (such as green finance).
The teams pitched their ideas and minimum viable products (MVPs) to an impressive line-up of judges who included: Ms. Muna Sukhtian, Dr. Ashraf Bany Mohammad, Mr. Mohammad Badwan, Mr. Simon Redfern, Mr. Abe Seksek, and Mr. Tarek Aqel, who judged the teams according to various criteria; mainly the viability and relevance of the idea, its ability to make an actual impact by solving real problems, and the way it was pitched. The three winners of the hackathon, Project Moon in first place, Blockexe in second, and Step Jo in third, were awarded cash prizes of JOD 10,000, 5,000, 2,500 respectively, but most importantly won the opportunity to be incubated within JOIN Fincubator to further develop their solutions.
On her part, Ms. Maha Bahou, CEO of JoPACC, stated: "JOIN's mission is to increase products, services, and investments in the Jordanian fintech ecosystem by supporting fintech innovators to ideate, create, validate, and graduate their solutions. I was blown away by the creativity and innovation displayed by the teams, and it was so inspiring to see so many talented individuals come together from across the Kingdom to address some of the biggest challenges facing MSMEs' access to finance. And while this hackathon tackled the ideation phase, I cannot wait to see what progress our winners will make after graduating from our incubation program."
As the exclusive sponsor of the hackathon, Mr. Ulrich Hess, I-FIN Team Leader, additionally added: "JoPACC's first hackathon was a great success in promoting innovative and practical financial solutions for real-life challenges faced by MSMEs in Jordan. Congratulations to all participants and winners! We're thrilled to continue the journey with JoPACC towards advancing MSMEs' financial inclusion." Commissioned by the Federal Ministry for Economic Cooperation and Development (BMZ), the I-FIN project promotes innovations on the regulatory, supply, and demand sides of the finance market for MSMEs, and also focuses on the challenges and needs of women-led MSMEs and promotes products and services that serve their specific needs.
Mr. Simon Redfern, CEO of the Open Bank Project, and one of the judges on the judging panel said: "events like these really help spur the fintech ecosystem and they're great for drawing out game-changing solutions in little time. Organizations such as JoPACC that drive these kinds of interactions with innovators are contributing towards a more digital and inclusive Jordanian financial system. We saw a peak of 7000 API calls an hour with the teams making wide-ranging use of the Open Bank Project API platform." The Open Bank Project is the global standard and leading open-source API Platform for Open Banking. It empowers financial institutions to enhance their digital offerings using an ecosystem of 3rd party applications and services rapidly and securely.
Launched in November 2022, JOIN Fincubator plans to host more fintech hackathons in the future as part of its commitment to promoting innovation and collaboration in the Jordanian fintech scene.