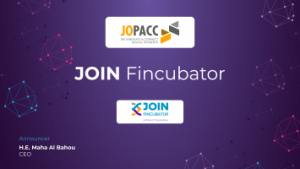 During the proceedings of the 20th edition of the MENA ICT Forum, which was held under the patronage of His Majesty King Abdullah II Ibn Al Hussein on the 16th and 17th of November 2022 at the King Hussein Bin Talal Convention Centre, Jordan, Dr. Adel Sharkas, Governor of the Central Bank of Jordan and Chairman of The Jordan Payments and Clearing Company (JoPACC), announced the launch of the Jordan Innovation Fintech Incubator "JOIN Fincubator" and the Regulatory Sandbox "Jo Reg Box".
Driven by the commitment of the Central Bank of Jordan and JoPACC towards realizing financial stability, fostering an advanced financial infrastructure, and increasing digital financial inclusion, the inauguration of JOIN Fincubator comes as a response to His Majesty's King Abdullah II Ibn Al Hussein 2022 Economic Modernization Vision, which aims to make the Kingdom's economy an enabling, inclusive, sustainable, and resilient one, bringing empowering opportunities to people, entrepreneurs and enterprises alike.
JOIN Fincubator is the first fintech innovation incubator of its kind in Jordan, providing participants of its programs with a range of services; from access to digital financial infrastructure so they can actively test, validate, and develop their fintech innovations, access to expertise, advisory services, and mentorship, to access to partnerships, finance, and markets. JOIN Fincubator targets startups, financial institutions, college students, and investors in Jordan and the MENA region who can benefit from developing fintech products and solutions, contributing to building, enriching, and expanding Jordan's digital economy.
Dr. Adel Sharkas stated that in launching JOIN Fincubator, innovators will be able to pursue their fintech concepts in a single hub that offers mentorship, expert services, real environment testing, and regulatory consultancy and certification. It is worth noting that the Central Bank of Jordan will have a direct presence and involvement in JOIN Fincubator through its regulatory sandbox (Jo Reg Box), facilitating an unmatched opportunity for immediate interaction between the innovators and the regulator.
The MENA ICT Forum is held biennially in Jordan and is organized by Intaj, the ICT Association of Jordan- of which JoPACC is a member.  This year's forum, which celebrated its 20th anniversary and was attended by over 2000 individuals from all over the world, is themed "Fusing Technologies, Digitizing & Bridging Borders, Reshaping the Generations of the Future". The forum aims to address how technology can help in solving pressing challenges that most nations face in today's age, including alarming unemployment rates, healthcare, rebuilding digital economies, and the role of fintech in creating transparency and bridging the gap between societies.