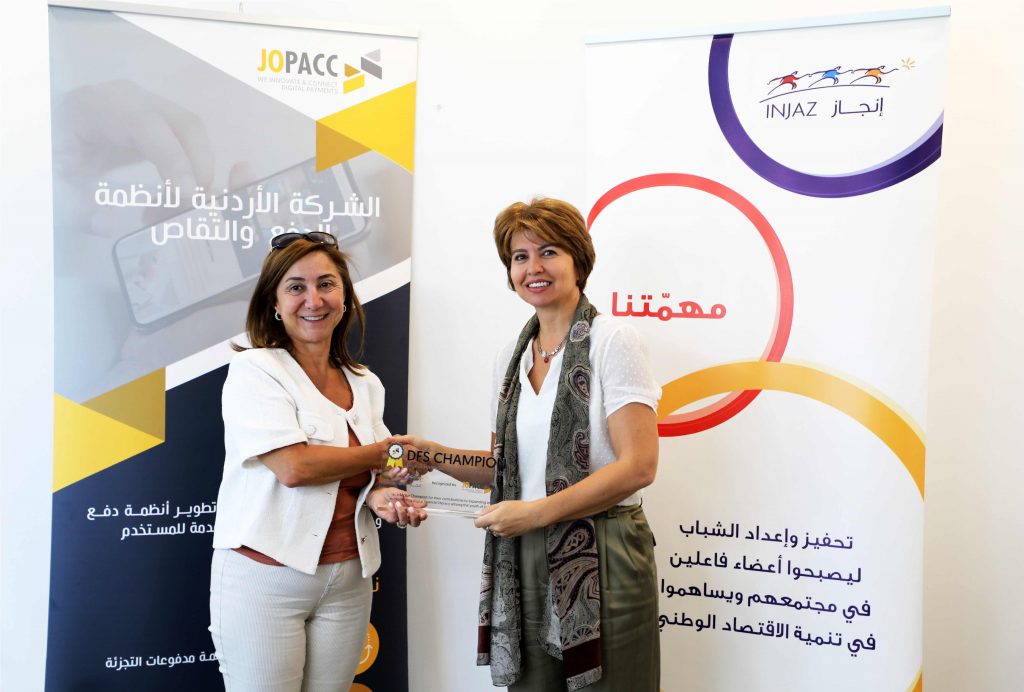 In the second annual cycle of the Digital Champions Program launched by the Jordan Payments and Clearing Systems Company (JoPACC), JoPACC, represented by its CEO, Ms. Maha Al-Baho, hosted the team of INJAZ, represented by its CEO, Ms. Deema Bibi, to recognize them as the 2022 Digital Champion.
The Digital Champions Program aims to recognize and honor the individuals and institutions pioneering change across the financial sector who contribute to expanding the acceptance and use of digital financial services. The champions are nominated by stakeholders in the financial sector, after which an evaluation conducted by JoPACC's team determined the candidate(s) chosen for that year.
INJAZ is a leader in raising financial literacy, especially in the realm of digital financial services, for school students, university students, community colleges, and youth centers by conducting educational programs and courses for them. INJAZ is also credited with the achievement of introducing the national financial literacy curriculum (Financial Education Program) in collaboration with the Central Bank of Jordan and the Ministry of Education, which was mainstreamed in schools as a subject taught to students from the 7th to the 12th grade.
Ms. Maha praised the entrepreneurial role INJAZ has played in enforcing the teaching of life skills at an early age and expanding the horizons of the educational process to include practical elements, which shall equip youth to lead their lives and make decisions in a responsible and informed manner. Ms. Deema Bibi commended JoPACC's efforts in promoting financial awareness in Jordan and also affirmed INJAZ's belief in the importance of financial awareness and education from a young age.
JoPACC and INJAZ have also agreed to intensify their efforts to enhance awareness of core financial concepts by holding joint training sessions and building financial awareness programs, which aim towards enhancing the levels of financial inclusion across the Kingdom.
Building on its mission to inspire and prepare youth to become productive members in their society and accelerate the development of the national economy, INJAZ has established itself over the past 22 years as a leading solution provider linking the public, private, and civil society sectors to bridge the skills gap between the educational system and the changing needs of the labor market. In 2018, INJAZ established mySTARTUP incubator that builds on INJAZ' resources, expertise, and network to promote entrepreneurship and enable startups to become a driving force toward the enhanced and equal participation and economic development of youth and women.
JoPACC, on the other hand, manages several payment systems in Jordan, introduces innovative digital solutions, and conducts analyses and studies in the field of financial technology and inclusion.