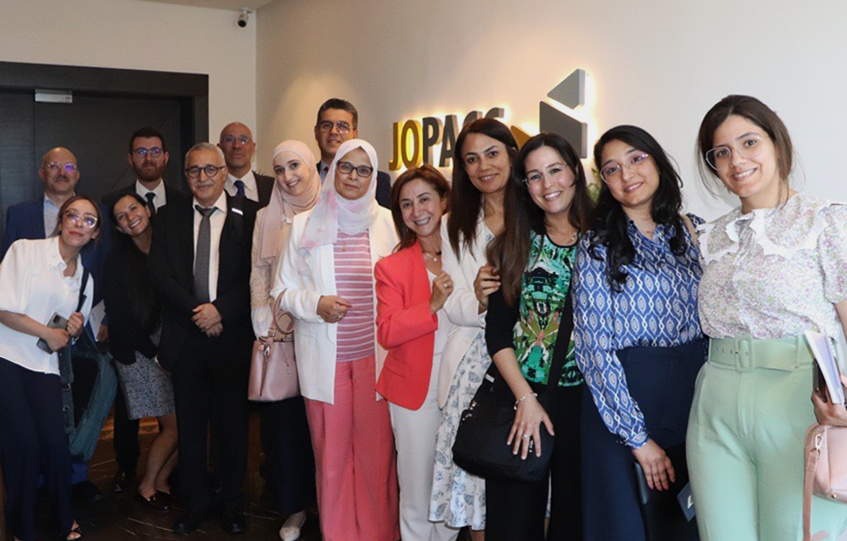 In line with its collaborative approach to exchanging experiences, disseminating knowledge, and sharing its business model with local and international institutions, the Jordan Payments and Clearing Company "JoPACC" recently welcomed delegations from the Iraqi and Tunisian Central Banks, as well as the Tunisian Ministry of Finance, for a knowledge-sharing visit on June 21st and 22nd. The visit was organized in collaboration with the German Agency for International Cooperation (GIZ) and in the presence of their representatives.
During these visits, the two delegations learned about JoPACC's experience in managing and operating payment systems, managing system participant relationships, the company's core areas of business, and its current projects. They were also briefed on the chronological evolution of digital payments in Jordan and the infrastructure needed to establish easy-to-use and resilient payment systems.
Both delegations were actively engaged in discussions and inquiries. Their aim was to seek solutions to address the respective challenges faced by their countries and explore the implementation of digital payment systems like those established and operated by JoPACC, taking into consideration the unique requirements of each country individually. The hope was that these efforts would contribute to the resolution of current issues and promote the adoption of effective payment solutions.
H.E. Maha Bahou, CEO of JoPACC, enthusiastically emphasized her team's readiness and capability to conduct multiple exchange sessions with the visiting delegations and highlighted the company's commitment to offering robust support, reflecting JoPACC's dedication to promoting digital financial inclusion, particularly in neighboring Arab countries.
The two visiting delegations expressed their admiration for the remarkable progress achieved in Jordan's digital payments infrastructure and particularly lauded JoPACC for its commitment to a partnership-based approach with all stakeholders in the financial sector. The delegations recognized JoPACC's pivotal role in effectively operating and managing payment systems, facilitating fintech innovation, knowledge management, and business analytics which involves active participation from all entities within Jordan's financial system.