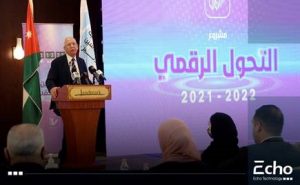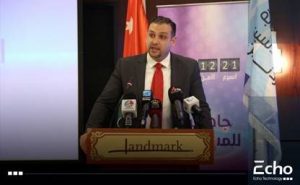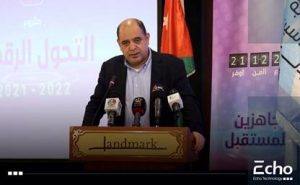 The Jordan Engineers Association (JEA) held a launch ceremony of its Digital Transformation Program on Tuesday 21/12/2021 at the Landmark Hotel in cooperation with Echo Technology as a key partner in implementing the Program.
The ceremony was held under the patronage of His Excellency Ahmad Al Hanandeh, the Minister of Digital Economy and Entrepreneurship, and Eng. Ahmad Samara Al-Zoubi, JEA President, in the presence of His Excellency Eng. Yahya Al-Kasabi, the Minister of Public Works and Housing, and Eng. Yousef Alem, the Chief Executive Officer of Echo Technology.
The ceremony included an introduction to the Program and the achievements resulting from its implementation, including the digitization of 73% of the Association's services during the first phase of the project. The second phase will include digitizing the remaining services, whereby the Jordan Engineers Association will become the First Digital Association in Jordan at the beginning of 2022.
In his speech, JEA President, Eng. Ahmad Samara Al-Zoubi, said that engineers should be entitled to enjoy services that preserve their rights and save their time in order to achieve higher production rates, with less efforts, and costs commensurate with the circumstances experienced by the different sectors.
Moreover, the Minister of Digital Economy and Entrepreneurship, Ahmed Al-Hanandeh, said that the rapid growth of digital technology, the development of smart devices, machines and systems, the increase in the ability to process data, as well as artificial intelligence, led to unprecedented transformations in the production process, indicating that this has contributed to developing revolutionary changes in the digital economy.
The CEO of Echo Technology, Eng. Yousef Alem, praised in his speech the distinguished partnership with the Association. He stated that the rapid development of communication technologies and technology tools, the expansion of their daily use, in addition to the role of the Coronavirus pandemic – which came as a motivator and accelerator for individuals, institutions and governments to use technology as a daily tool for meeting basic needs – made digital transformation a reality and an essential requirement, whereby it is no longer optional.
He also highlighted that the remarkable cooperation with the team of the Association has resulted in the launch of the Association's mobile application, which includes more than 40 integrated services, along with the Association's website. Furthermore, working on the launch of the electronic services portal is still in progress and scheduled for the beginning of the first quarter of 2022.
The digitization activities at the Association included identifying priority services to be launched in the first phase, re-engineering procedures to ensure their automation in order to achieve the desired efficiency, creating an appropriate legislative and regulatory environment for digitization tools, in addition to finding and applying user journey standards, taking into account the definition of the safe and appropriate technological infrastructure.