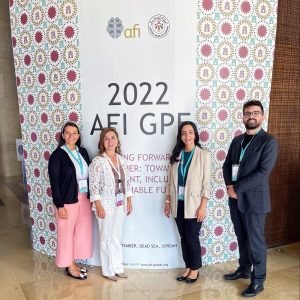 The Jordan Payments and Clearing Company (JoPACC) joined the Alliance for Financial Inclusion (AFI) as an associate member, becoming a part of a global network of financial sector regulators and policy-making institutions. Through this membership, JoPACC will work closely with AFI to increase financial inclusion and reduce inequality by developing tailored financial inclusion solutions and products and driving their practical implementation. To achieve its ultimate shared objective, JoPACC will benefit from a wide range of practical services, tools, access to global policy leadership, and visibility.
JoPACC recently hosted a high-level delegation from AFI led by Dr. Alfred Hannig, AFI's Executive Director, at its headquarters in Amman to showcase its mission, efforts, and achievements to boost financial inclusion in Jordan. JoPACC specifically shed light on the launch of the instant payment system "CliQ" that adopts the latest ISO 20022 standard for financial messages, which facilitated instant money transfers between bank accounts in Jordan, and the upgrade of JoMoPay (Jordan's Mobile Payment Switch) to the same ISO standard (20022), enabling instant transfers between the two systems seamlessly. JoPACC also has a plethora of projects in store that aim to facilitate financial account access for individuals, such as the eKYC project, which will enable financial consumers to establish a trusted proof of identity digitally to open financial accounts digitally and remotely. The company is also committed to spreading knowledge and awareness about digital financial services in Jordan. As a result, this membership comes to recognize JoPACC's tremendous efforts to promote safe and sound access to digital financial services and enhance digital liquidity. It further offers JoPACC a platform to expand its contribution and exchange knowledge and expertise with like-minded entities. AFI will be holding its Global Policy Forum in Jordan in September, hosted by its principal member, the Central Bank of Jordan, where JoPACC will actively participate and present its efforts and near future plans.
AFI was established in 2008 with funding from the Bill and Melinda Gates Foundation. The Alliance has more than 100 member institutions in 90 developing countries, where most of the financially excluded live, and is now the world's leading financial inclusion policy and regulation organization. JoPACC has had significant achievements in Jordan since its establishment in 2017, cooperating with different local and international financial entities, policymakers, and stakeholders to promote digital financial services as a major driver of financial inclusion and the digital economy. The company is regulated by the Central Bank of Jordan (CBJ) and owned by CBJ and all commercial banks in the Kingdom.