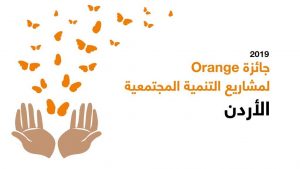 Orange Jordan recently announced opening registration for start-ups to participate in the third edition of the Orange Social Venture Prize (OSVP) 2019, starting from March until the end of May, targeting innovative projects that are designed by the youth, with solutions that respond to the needs of the local community in different sectors.
In a press release issued by Orange Jordan, the company said that: "Supporting and motivating the youth to demonstrate their best performance through such competitions, and directing projects that will benefit the local community, is considered to be one of Orange Jordan's top priorities, seeking to support innovation and the local community, pointing out that the company pays ongoing attention to the youth segment in society, by shedding light on their innovative projects and providing them with training programs, financial support, and the required professional expertise, to enhance their confidence and help them in developing their ideas in the best way possible".
The company also affirmed that the local version of this prize reflects Orange Jordan's role as an international company with a local spirit, as the company implemented Orange Group's commitment to supporting projects which have a positive impact on the local community in all the countries that it operates in, across the Middle East and Africa.
Orange Jordan formed a  jury consisting of experts in the entrepreneurial field consisting of: Chief Executive Officer of Abd Al Hamid Shoman Foundation, Valentina Kassisieh, Deputy Executive Director at The Jordanian Hashemite Fund for Human Development (JOHUD), Mohammad Al-Amoush, CEO at Information and Communications Technology Association – Jordan (Int@j), Eng. Nidal Bitar, Director of Strategy & Partnerships at Crown Prince Foundation, Mais AlDaoud, pioneer Fida Taher and PR, CSR, and Corporate Communication Director at Orange Jordan, Rana Al Dababneh. The jury will select three start-ups from the applicants, which will be announced in August. The first three winners will be awarded with three prizes: 4,000 JD, 3,000 JD, and 1,000 JD respectively and will have the opportunity to participate in the international version of the prize, with a first prize reaching 50,000 Euros.
Orange Jordan's continuation of launching the local edition of this prize came after its success in exploring the youth talents and innovative projects in the two previous competitions, where the company proved its ability to sponsor these start-ups and effectively contribute to enhancing the socioeconomic development, while pushing digital transformation in the Kingdom.