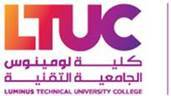 Luminus Technical University College (LTUC) announces the launch of scholarships offering intensive courses in software development for 1,000 Jordanian youth and 150 Syrian refugees, according to a pre-set criteria. The intensive courses will be offered by Abdul Aziz Al Ghurair School of Advanced Computing (ASAC) at LTUC, in accreditation from Code Fellows Academy in Seattle – the US.
These courses are designed to equip students with practical and technical knowledge as well as self-directed learning skills to ensure their readiness to join the dynamic and agile professional landscape. The courses will also work on the students' soft skills through a career-coaching programme which includes communication and teamwork, before linking them with job opportunities upon graduation.
The scholarships cover an intensive short course programme in one of the two steams, Full-Stack JavaScript or Python provided by ASAC in collaboration with Code Fellows Academy in Seattle – the US. The school offers an internationally accredited certificate that qualifies graduates to work in Jordan and anywhere in the world. This initiative aims to provide job opportunities for the youth across the Kingdom, where the outreach efforts are focused on the governorates of Amman, Zarqa, Irbid, Madaba and Mafraq to help in building the youth's capacities and skills and link them to available job opportunities.
The scholarships are co-funded through a collaboration between Luminus for Social Development, the Ministry of Labour, the Technical and Vocational Skills Development Commission, and the Qudra 2 programme, co-financed by the European Union, through the EU Regional Trust Fund in Response to the Syrian crisis, the EU Madad Fund, the German Federal Ministry for Economic Cooperation and Development (BMZ) and the Spanish Agency for International Development Cooperation (AECID), and in partnership with Tafila Technical University, Al-Hussein Bin Talal University, Al Albayt University and the Vocational Training Corporation.
Notably, ASAC, one of the 10 schools of excellence under LTUC, was established in 2019 to build students' capabilities and skills in software development through an ever-updating international curriculum based on professional educators in various fields, and an educational environment that simulates international technology companies and builds students' skills to qualify them for employment opportunities in the technology sector. The college's programmes and curricula are constantly updated based on studies with a group of companies operating in the sector that showed the growth of technical vacancies and the need for qualified graduates to receive these vacancies.