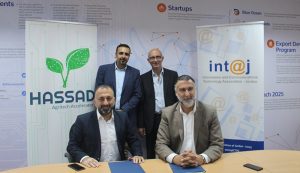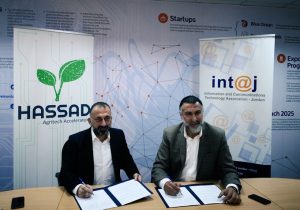 The Information and Communications Technology Association of Jordan (int@j) signed a memorandum of understanding with Hassad—an agritech accelerator for startups—concerning agricultural entrepreneurs and small companies and startups that want to grow their businesses.
According to the memorandum—signed by Dr. Bashar Hawamdeh, the Chairman of the Board of Directors at int@j, and Mr. Walid Tahabsem, Chairman at Hassad— int@j will provide technical support for startups and agricultural technology support projects that offer solutions in various areas, including inputs for sustainable agricultural production, digital agriculture, sustainable agricultural economy, and technical food and livestock breeding through the Blue Ocean Council.
The memorandum sets the first building block for the development and management of agricultural product intellectual property through the use of IT to ensure authenticity, exportability, scalability, and innovation, to help develop start-up company procedures that ensure the sustainability of their businesses and growth rates.
Dr. Hawamdeh said that int@j was working to increase networking between the IT sector and other sectors, adding that IT enables other sectors, particularly with technology making remarkable strides forward in all sectors worldwide.
Referring to the memorandum, he explained that Hassad and int@j would be the main supporters of digital transformation in agriculture, as entrepreneurship is key to the introduction of modern creative technologies for productive sectors.
Tahabsem said that Hassad believes in the importance and value of providing mentorship to startups, making it an essential part of the acceleration process offered by the company. He added that the contribution made by these sessions is key to the development of business, increases the chances of success and growth of startup companies, and that the contribution of experts and mentors within the Blue Ocean Council initiative will be of great value to startups joining Hassad and working on supportive technologies for the agricultural sector.
He added that companies affiliated with int@j have the expertise to significantly and effectively contribute to supporting entrepreneurs in particular and the entrepreneurial system and startups in the Kingdom as a whole.
Hassad is a business accelerator specialized in accelerating startups and technological projects that support the agricultural sector in Jordan. It seeks to build a supportive and stimulating environment that draws outstanding projects to itself with the aim of creating companies capable of growing and influencing and accelerating the development of the Jordanian economy.