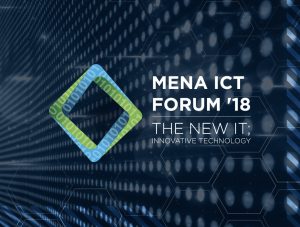 Experts and business leaders from 30 countries will be discussing the information technology's new and innovative concepts at the Middle East and North Africa Information and Communications Technology (MENA ICT) Forum 2018 in Amman.
Organized by the Information and Communications Technology Association (int@j), the forum is set to be held on September 10-11 under the Royal patronage at the King Hussein Business Park.
int@j is currently in the process of inviting founders and senior officials of global and regional companies to take part in one of the most important ICT industry events in the region.
The MENA ICT Forum is the ideal regional platform to acquire knowledge, establish vision, and network with experts and decision makers.
Divided into nine sessions, speakers at the two-day gathering will be discussing latest trends, opportunities, and future outlook in the ICT sphere.
The first session will deal with  Fin-tech, as this financial technology's trends show that people are more comfortable managing their money and business online. The financial services industry has seen drastic technology-led changes over the past years.
The second session will tackle Digital Commerce and how it evolved to the extent of ordering a product with a single click on smartphones, then having a drone deliver it to the customer's doorstep on the same day, as the world of retail is undergoing an extraordinary wave of innovation.
The Inclusive Internet and Arabic Content is set to be explored at the third session, as technological shifts and the increase in the number of Arab Internet users in the past call for more quality Arabic content for the 141 million users who speak the language.
Participants in the fourth session will be examining the untapped potential of both Virtual Reality (VR), and Augmented Reality (AR).
Delegating to machines and keeping human focus on innovation via automating workflows and stop spending valuable hours on repetitive tasks will be debated at the fifth session.
Cybersecurity will be the talk of the sixth session, as our daily lives become more and more dependent on Internet-based tools and services, the demand grows for knowledge in the field of cybersecurity, simultaneously with the rising need for use of cloud services and the Internet of Things (IoT).
The seventh session will focus on Analytics and Intelligent Apps, which include technologies like virtual personal assistants.
Smart Cities: The Melting Point of All Technologies will be discussed among participants in the eighth session, where a smart city is a combination of diverse technologies such as a smart home, smart security, smart education, smart healthcare, and smart transportation.
The ninth and final session will discuss the transition from the Internet of Things to the Internet of Everything.
​Research predicts that the Internet of Things is the future backbone for migrating towards IoE (Internet of Everything).