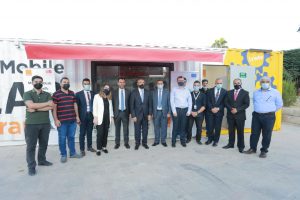 H.E. Minister of Tourism and Antiquities, Nayef Al Fayez, recently visited the Mobile FabLab in Jerash, executed by Luminus Shamal Start and supported by Orange Jordan to provide digital fabrication skills and tools for youth in different governorates to enhance their employment and entrepreneurial opportunities.
During his visit to the first-of-its-kind fabrication lab in the Kingdom; the Minister checked the machines and skills that the students are receiving and talked with the team about the free training in digital fabrication fields such as web development, design, technology-assisted design, and cutting, 3D scanning and printing, board design and manufacturing, and programming.
Jerash is the second destination for the mobile FabLab, where Orange Jordan and Luminus Shamal Start recently celebrated the graduation of the first cohort at the Jordanian -German Center of Excellence for Solar Energy in Mafraq after two months of training.
The Mobile FabLab was established to provide youth with the needed resources to develop and grow in this field and helping them launch prototypes that will serve communities and support industries.
Orange Jordan expressed its appreciation to the Minister of Tourism for the efforts and support presented by the Tourism Directorate of Jerash that offered the suitable location for this promising initiative at the directorate's yard, noting that the students will be creating souvenirs inspired by the ancient monuments in the historical governorate, to support the local tourism sector, which is one of the Kingdom's vital economic tributaries.
Orange Jordan will continue supporting the Mobile FabLab, for its interest in expanding free digital education to enhance the youth's contribution to creating innovative projects and get employed under its corporate social responsibility and its role as the responsible digital leader, noting that the FabLab is supported by Orange Foundation as part of its Solidarity FabLab program that supports 90 labs in 16 countries.