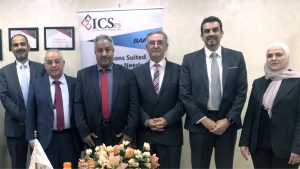 Aden, Yemen: National Bank of Yemen (NBY), one of the largest commercial banks and a prominent contributor to the economic and social development in Yemen; has gone live with ICS BANKS Universal Banking Software from ICS Financial Systems Limited (ICSFS), the global software and services provider for banks and financial institutions, to grow its operations domestically and internationally.
The National Bank of Yemen (NBY) provides banking services ranging from Retail to Trade Finance, Treasury and Project Finance to individuals, corporates, and governmental institutions. Over the past fifty years, NBY has spread its presence in remote areas as well as major cities and towns of Yemen. On Sunday 02nd February 2020, NBY announced the go-live and rollout of ICS BANKS Universal Banking Software from ICSFS.
Managing Director of National Bank of Yemen; Dr Ahmed Ali Ben Sanker said:
"I am privileged to announce on behalf of our bank's entire team, the successful rollout of ICS BANKS banking software which was carried out within our bank's development and modernisation project framework. ICS BANKS' innovative and best-in-class technologies introduced – for the first time in NBY's history – a major paradigm shift in our banking services. We have replaced our old legacy system with ICS BANKS comprehensive banking software solutions, which significantly saved time. We are astounded with the software's integrated design and ease of data inclusion. It is without a doubt, ICS BANKS will allow us to provide excellent and distinguished banking services to our large customer segments."
Robert Hazboun, Managing Director of ICSFS said;
"NBY possesses a strong banking and financial position in Yemen, the bank was looking for banking software that will support them in maximising their profitability, whilst cutting operational costs. Our ICS BANKS software offers real financial clarity, with maximum financial efficiency, scalable features to support NBY's growth and lead them through a successful lifetime business. We greet our new customers with open arms to innovation, highest quality and professionalism standards and deliver real value to their customers. Our journey with NBY has just started, we are looking forward to being their technology and business partner, driving a powerful and fruitful joint success."
ICSFS invests in its software suites by utilising modern technology in launching new products, constructing a secured and agile integration, and keeping pace with new standards and regulations worldwide. ICS BANKS software suites future-proof banking activities by providing a broad range of features and capabilities with more agility and flexibility, to enrich customers' journey experience, hence improving the trust and confidentiality between the customer and the bank. ICS BANKS has always been a pioneer in utilising the latest technology to serve financial institutions. In addition to its embedded Service-Oriented-Architecture (SOA), the system can be deployed on-premises or in the cloud.