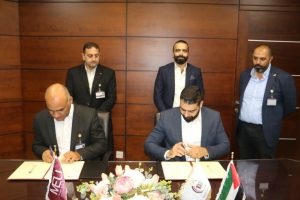 NewGenesis Technical Solutions has signed a joint cooperation agreement with The Middle East University, which
includes the supply and installation of computer network connectivity devices.

The project manager and co-founder of the company, Joseph Ajour, and vice-chancellor Dr. Anis Mansour signed the project.
The agreement aims to develop the computer network within the university to keep up with the developments of education and electronic and provide the university with the latest technology,
We also seek further cooperation and joint work among ourselves in the future, hoping that this cooperation will serve as a model and the first for broader cooperation between the IT sector and the education sector.