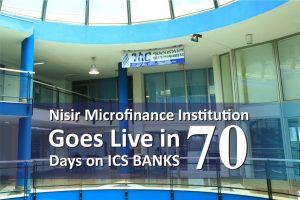 Addis Ababa, Ethiopia: Nisir Microfinance Institution (Nisir MFI), an innovative and growing microfinance institution in Ethiopia, has successfully gone live, in a record time of 70 days, on ICS BANKS from ICS Financial Systems Limited (ICSFS), the global software and services provider for banks and financial institutions.
Established in 2014, to provide loans for small and medium enterprises (SME), Nisir MFI started its operations using the core banking with six branches and a headquarter located at Dembel City Center. To reach a majority of the public and meet customers' increasing demands, Nisir MFI decided to stop using its outdated legacy technologies and planned to deploy modern financial software solutions to become more accessible. Nisir MFI successfully went live on 01st May 2021 , in a record time of 70 days . Nisir MFI testified for ICS BANKS Microfinance's cost-effectiveness, flexibility, and user-friendly lending software solution, which is suitable for any MFI. With its customised MIS capabilities, BI functions, and easy tracking methods, Nisir MFI is now able to track the workflow of the loan process at any level, and any time, and can request reports, enquiries, and advices receipts for each loan process, with full detailed information on the loan settlement transaction.
Mr. Dawit Wakgari, Chief Executive Officer of Nisir MFI, said:
"This is a pivotal time for MFI in Ethiopia, where they are gaining wider attention in the region. To stand out from the rest, we have decided to drop our legacy system and start using an innovative and future-proofed system that provides Digital Banking trends for our future growth. This is where ICSFS won our trust, after the deployment of ICS BANKS Microfinance Solution, we have seen positive results, including a massive increase in the speed of our full processes, which resulted in fulfilling our customers' requirements on time. Our productivity and efficiency have increased tremendously, and have now the ability to provide new products and services to customers quickly and easily. We are very proud of the success and record time of this full turnkey project. ICSFS's team made the seamless migration and implementation very easy and smooth."
Robert Hazboun, Managing Director at ICSFS said;
"We are honoured to have Nisir Microfinance Institution as our first live Microfinance reference in Ethiopia.  ICS BANKS Microfinance solution showed off its advanced technology accompanied by its out-of-the-box functionalities, swift and seamless implementation, and bespoke solutions that are tailored to Nisir Microfinance Institution's specific needs. Our team of professionals is always on top of the game, as the pandemic did not stop us from scoring one of the highest record time of 90 days in microfinance migration and implementation projects."
ICSFS invests in its software suites by utilising modern technology in launching new products, constructing a secured and agile integration, and keeping pace with new standards and regulations worldwide. ICS BANKS software suites future-proof banking activities by providing a broad range of features and capabilities with more agility and flexibility, to enrich customers' journey experience, hence improving the trust and confidentiality between the customer and the bank. ICS BANKS has always been a pioneer in utilising the latest technology to serve financial institutions. In addition to its embedded Service-Oriented-Architecture (SOA), the system can be deployed on-premises or on the cloud.