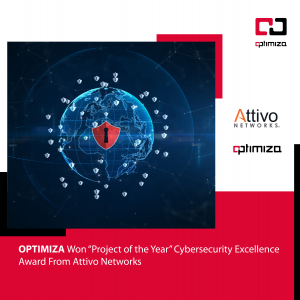 OPTIMIZA  announced it has won "Project of the year" cybersecurity excellence award from Attivo Networks.
Attivo is an award-winning leader in cyber deception and attacker lateral movement detection.
OPTIMIZA was honored for driving innovation and delivering effective, comprehensive cyber security solutions for their customers among a group of Attivo's global partners in Latin America (LATAM), Middle East, Turkey, and Africa (META), Asia-Pacific (APAC), North America, and the United Kingdom (UK).
The winners were selected based on performance results, new customer acquisition, relationship engagement, and prospecting momentum. Honorees were chosen from a set of more than 300 partnerships worldwide.
"I am proud to honor and congratulate OPTIMIZA for their outstanding achievement. Their success is a testament to their excellence in delivering innovative cybersecurity solutions for their clients. Looking forward towards many more successful collaborations together" said Tushar Kothari Attivo Networks' Chief Executive Officer.
"It's an honor to win 'project of the year' award by Attivo; this award demonstrates the profound partnership linking OPTIMIZA and Attivo to provide our mutual customers with innovative cybersecurity solutions using leading edge technologies" said Majed Sifri, OPTIMIZA's Chief Executive Officer.
Al-Faris National Investment Group, brand named OPTIMIZA, is a leading publicly-listed regional ICT Systems Integration and digital transformation solutions provider (ASE:CEBC). With over 35 years of region wide technology systems integration experience and hundreds of projects delivered, OPTIMIZA's intellectual capital spans diverse industries, enabling over 400 professionals across the MENA region to integrate and deliver successful, innovative, and reliable consulting and technology solutions. With a commitment to excellence and customer satisfaction. OPTIMIZA is specialized in offering business solutions and services in areas of management consulting, information technology, outsourcing, and training.