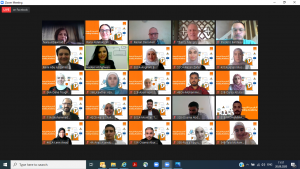 Orange Jordan announced the inauguration of the Coding Academy's second cohort, after selecting 50 new students from 7000 applicants to join the academy, the evaluation, and selection process was conducted by a specialized jury to select the new joiners based on defined criteria virtually as a preventive measure to stop the spread of Covid-19, the Academy's second cohort was announced via Zoom with the presence of Orange Jordan CEO, Thierry Mirgeny, several executives, and the students.
Mirgeny expressed his enthusiasm to commence the Coding Academy's new training program, after the successful impact of the first cohort, where 70% received employment opportunities before graduating from the academy, achieving the "Training For Employment" concept, noting this accomplishment made the company confide in the academy and its effect in creating a brighter future for ambitious youth to change their reality and enhance their lives.
Mirgeny explained that each student of the Coding Academy's second cohort possess high level of passion, will to learn, various skills and tremendous needs that require nurturing, highlighting the Academy's role in cultivating young talents and developing their skills to prepare them for the local and regional labor market, and armed with knowledge and training.
He also said that the Coding Academy's success and its ability to reinforce the youth's self-esteem, increased the company's determination in supporting this segment that is able to create socio-economic change in Jordan, as it's in line with its strategy as a major player in the Jordanian economy, and on the other hand, it represents part of Orange Global & Orange Jordan commitment in supporting youth to create change in their societies.
Orange Jordan CEO affirmed that the Coding Academy's training program showcases the importance of the ICT sector as an enabler for the various economic sectors, by creating skilled talents that match job seekers, and highlight the company's role in reducing the unemployment that rose notably amid Covid-19.
Orange Jordan will welcome 50 female / male students to start their training at the Coding Academy that applied all health measures from sanitizing the building and guaranteeing social distancing in line with the current circumstances, to ensure everyone's safety, as the training will be hybrid combining physical training at the academy and online training.
The Coding academy previously held a 2-days orientation session for the new students, to prepare them for the training program and to answer any questions, with the participation of the program's supervisors, where the program will train the most needed languages such as JavaScript, Php, Python, soft skills to support their career, in addition to 1 month internship in one of the ICT sector companies.
Orange Jordan exhibited flexibility and agility in continuing the academy's progress with its Partner; Simplon.co, as it conducted the interviews and exams remotely due to the importance of carrying on its activities for the development opportunities it offer for Jordanian youth, by equipping the different sectors with trained and skilled caliber of programmers and technicians.