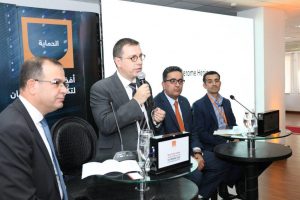 CEO of Orange Jordan Jérôme Hénique announced that Orange Jordan Data Center located in Marj Al Hamam has received the Tier III certification, for data center design worldwide. The Data Center was accredited by Uptime Institute in America, specialized in studying and evaluating global data centers, becoming the only data center in the Kingdom to obtain this global certificate.
The certification was announced during a press conference held under the patronage of Her Excellency Majed Shweikeh, the Minister of Information and Communications Technology and Public Sector Development and in the attendance of Secretary General, Nader Thneibat at the Ministry of Information and Communication Technology, Chief Enterprise Officer of the Business Unit Sami Smeirat, Chief ITN & Wholesale Officer Waleed Al Doulat, Data Center Manager and Tier III Project Manager, Bahjat Al-Adwan and media representatives.
During the press conference, Hénique affirmed that Orange Jordan is proud of its advanced Data Center for receiving the prestigious Tier III certification, adding that Marj Al Hamam Data Center was established in 2013 to meet the needs of the company's corporate and business customers and to offer them the latest state-of-the-art technologies. This falls in line with the company's five-year corporate strategy "Essentials 2020", through which it commits to supporting the digital development of business customers by providing the essential infrastructure."
Hénique added that last year, the company launched an international Point of Presence (IP PoP) at Orange  Data Centers located in Marj Al Hamam and Hashem, with the aim of connecting more people to high-quality and reliable internet in the region, leveraging Orange Group's expertise which will enable local and regional operators to conveniently access global IP services from Jordan rather than points such as Europe or the USA.
From his side, Orange Jordan's Chief Enterprise Officer of the Business Unit, Sami Smeirat affirmed that Orange Jordan is the only operator that provides a Tier III data center at the local level, he also pointed out that receiving this global accreditation among other centers in the region proves  that it is a versatile center, offering  customers the opportunity to design, implement and manage systems, networks and applications. The Data Center has contributed immensely to business advancement and has helped many strategic companies and banks in Jordan achieve stable growth.
Chief ITN & Wholesale Officer at Orange Jordan, Waleed Al Doulat said that obtaining this certificate has resulted in placing Jordan on the global map of Tier III countries, ranking the Kingdom in the 5th  place among Arab countries and in the 83rd  place globally. Orange Jordan is one of 923 companies to receive all-level TIER certificate, due to the multiple features it offers customers and at the highest standard."
Orange Jordan Data Center – Marj Al Hamam won the prestigious EMEA Panduit Award this year, and was ranked number one in the Middle East and Africa (EMEA) region for its unmatched, world-class features.