2021-02-20 02:10
Orange Jordan and GJU sign an agreement to establish Orange Digital Center Club
2021-02-20 02:10
---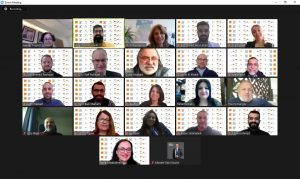 Orange Jordan and German Jordan University (GJU) in cooperation with GIZ, signing a cooperation agreement to establish Orange Digital Center Club at the university, aiming to develop youth's skills to enhance their employability inside and outside Jordan.
According to the agreement signed by Orange Jordan's CEO, Thierry Marigny and the Universities President, Prof. Manar Fayyad, Orange Digital Center Club will be established inside the university to offer the students training programs to develop their skills and benefit from the specialized trainers in different fields with Orange Digital Center (ODC) program at its HQ in Abdali.
Orange Digital Center includes free comprehensive program such as Coding academy, Fablab, Orange Fab to accelerate startups, in addition to Orange Ventures to fund startups in the Middle East and Africa.
Orange Jordan CEO, Thierry Marigny said: "We are happy to establish the first club of Orange Digital Center at the GJU, where these clubs will contribute in maximizing the students' benefits across the Kingdom, as the special program will include more students without being centralized in the HQ."
Marigny stated that the company will rehabilitate the club with the necessary equipment with a fund from GIZ, and it will support the training to enhance digital education, which will shape Jordanian youth's skills to increase their employability and support them in creating their own project as per the market needs, in line with the company's corporate social responsibility.
German Jordan University President, Prof. Manar Fayyad, commended the partnership with Orange Jordan, noting that it signifies the partnership between private and public sectors that the university focuses on, as it is considered as an applied university with strong ties with the industrial sector in Jordan and Germany.
Fayyad added that this partnership will add to the students in terms of education, training, and obtaining new skills that help them in starting entrepreneurial projects that will serve the society.
Head of Technical and Vocational Training Projects at GIZ, Ms. Eman Qaraeen, affirmed the project's importance represents an effective partnership between the private sector and educational institutions, which will contribute in bridging the gap between educational outcomes and labor market requirements, and promote entrepreneurship among students, as its one of the main pillars for the GIZ in the Kingdom.
GJU will establish the club under its Innovation and Entrepreneurship program, which serves the university's students and employees in developing their innovative ideas and turning it to companies, where the program resulted in creating several startups; in addition to the Innovation Platform and Lab and the IT incubator.