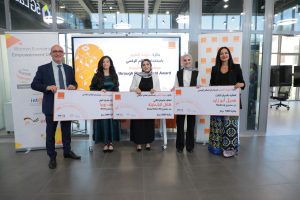 Orange Jordan, in partnership with the Information and Communications Technology Association of Jordan (int@j), announced the names of the female entrepreneurs who won the "Inspiring Change through Digital World" award in its second edition, launched last March in conjunction with International Women's Day under the umbrella of int@j's Women's Economic Empowerment unit "SHETECHS".
The winner announcement ceremony was held at the Innovation Hub at the Orange Digital Village in Amman, to honor outstanding female entrepreneurs, especially those who utilize digital solutions in their projects, and to highlight their innovative contributions.
The ceremony was attended by Chief Officer of Corporate Communication and Sustainability at Orange Jordan, Engineer Rana Al Dababneh, CEO of the int@j, Engineer Nidal Bitar, Head of the "SHETECHS" Unit at int@j, Zain Asfour, and Corporate Social Responsibility Team Leader at Orange Jordan, Samar Hijjawi, members of the jury, contestants, and representatives of the entrepreneurship and digital sectors in the Kingdom.
Rahaf Zorba came in first place for Nelsa winning a JD 3,000 prize, Thilal Al-Shamayleh won second place for Easy Robot Kits Academy with a JD 2,000 prize, and Hadeel Abu Zayed came in the third winning a JD 1,000 prize for HealLeg.
The three winners were selected after a specialized jury carefully evaluated the contestants.
The competition is aimed at women owners, founders or partners in an innovative project or idea, or a CEO/leader in a startup working in Jordan.
During the announcement ceremony, Corporate Social Responsibility Team Leader at Orange Jordan, Samar Hijjawi, congratulated the winners and said that she is very proud of their achievements, highlighting the importance of their contributions in enhancing women's role in ICT and utilizing advanced technologies to create feasible, innovative solutions and to inspire girls and women.
Hijjawi affirmed Orange Jordan's commitment to launching this award for the second year in partnership with int@j, reflecting the company's firm belief in the role of women and the importance of empowering them to unleash their potential. The company also aims to increase leading female role models, especially in the digital sector where less than third of the jobs are occupied by women globally, she noted.
The award, added Hijjawi, also represents constant efforts to support and increase the contribution of women entrepreneurs as part of Orange Jordan's support for the entrepreneurship ecosystem in general.
Speaking of an integrated strategy for empowerment, Hijjawi said that women empowerment remains at the heart of Orange Jordan's culture, as it continues to bridge the wage gap, promote gender equality, and support women to reach leadership positions within the company, alongside providing digital education and training for women across the Kingdom to develop their projects and to prepare them for the job market as part of corporate social responsibility.
The head of the int@j's Women's Economic Empowerment unit "SHETECHS", Zain Asfour, congratulated the winners, Rahaf Zorba, Thilal Al-Shamayleh and Hadeel Abu Zayed and praised their use of technology to find practical solutions and outstanding innovations with a remarkable social and environmental impact, pointing out that the three winning projects use artificial intelligence to preserve water in agriculture, develop virtual learning platforms for robots, and create interactive solutions that help stroke patients regain functional independence.
Asfour stressed that int@j believes in innovation as the key to real change. She noted that the award's contestants are a great example of innovation, noting that the 3 winning projects stand out with innovation, viability, scalability, and competitiveness, as well as providing effective solutions that reflect the importance of integrating technology in all sectors.
Women have an active role in the information technology sector, especially as women hold third of the jobs in the sector, which makes their share of leadership positions relatively higher compared to other sectors in Jordan, Asfour added.
Asfour said she is happy with the award's impact, praising Orange Jordan's efforts to support women entrepreneurs in the information technology sector and to highlight their innovative contributions, particularly new ideas and digital solutions, as part of the company's comprehensive efforts to support entrepreneurs on a wide scale.