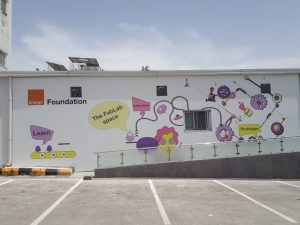 In partnership with Luminus ShamalStart, Orange Jordan established the digital fabrication lab at the Orange Digital Village located in the Abdali area, which comprises Orange's most prominent youth and entrepreneurial programs under its corporate social responsibility.
The Digital FabLab falls in line with Orange Jordan and Luminus ShamalStart strategic partnership to encourage digital education and support youth by offering free training designed to provide them with various technical skills required in the local labor market.
The FabLab aims to provide an integrated space to educate and train the beneficiaries to use the latest devices, tools and programs of in-demand digital fabrication skills, such as technology-aided design and cutting, 3D printing, computer-aided design, robotics, designing and manufacturing electronic panels and coding.
Orange Jordan and Luminus ShamalStart have previously collaborated to establish the Mobile FabLab, the first of its kind in Jordan. The first batch graduated from Mafraq, and the lab continues its journey across the Kingdom.
Orange Jordan expressed pride in opening a fully equipped digital fabrication lab at Orange Digital Village, the incubator for the most prominent programs implemented by the company to support youth and entrepreneurs in the Kingdom, in line with its role as a responsible digital leader.
The company said that the FabLab will help in increasing the number of beneficiaries of free digital education that Orange continues to provide to youth in the Kingdom to enhance their opportunities in the labor market or in starting innovative projects.
The FabLab is part of the Solidarity FabLab network supported by Orange Foundation, the Group's arm for philanthropy and social responsibility, which includes 129 labs in 19 countries.