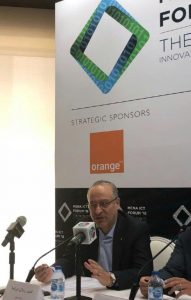 Orange Jordan recently announced its strategic partnership with The Middle East and North Africa Information and Communications Technology Forum (MENA ICT) 2018, that will be held under the patronage of His Majesty King Abdullah II. The two-day forum will take place on September 10 and 11, and organized by The Information and Communications Technology Association of Jordan (int@j) and the Ministry of Information and Communications Technology (MoICT), with the aim of developing the telecommunications sector in the Kingdom.
This partnership was announced at a press conference organized by int@j, at the King Hussein Business Park, in the presence of ICT Minister, H.E. Muthana Gharaibeh, Minister of State for Investment Affairs and President of the Investment Commission, H.E. Muhannad Shehadeh, Chairman of the Board of Directors, Dr. Bashar Hawamdeh, CEO of int@j, Nidal Bitar, Deputy CEO of Orange Jordan/Chief Financial Officer, Raslan Deiranieh, strategic partners and media representatives.
Deiranieh expressed his pride in Orange Jordan's participation and sponsorship of MENA ICT 2018, under the theme of "The New IT: Innovative Technology", and added that this theme falls in line with Orange Jordan as a leading international company with a local spirit, that contributes to the group's vision, through supporting digital transformation, and this support is considered one of the top priorities of Orange Jordan's five years corporate strategy "Essentials2020".
He clarified that the topics of the forum workshops for the current year focus on innovative technologies and applications which play a critical role in reshaping our world, as these advancements will continue to impact our daily lives, leading to a radical change on business models and the economy, and there will be major challenges to reinvent our business, to meet new requirements and realities, but at the same time, it will open up new horizons to work and facilitate our daily lives.
He stressed that the company is always committed to bringing a fundamental and integrated change in its operations, services and business models, to match the evolving interests and desires of people, clarifying that the company is constantly seeking to introduce and offer users advanced technologies and digitization, making it accessible to everyone.
Deiranieh added that the company has invested hundreds of millions of JD in its various networks over the years, focusing on New Generation Networks, solidifying its position as a leader in providing internet at the highest speeds, and meeting the needs of individuals and institutions through providing a variety of technological services to its subscribers, acknowledging that the world is heading towards the Internet of Things (IoT), cloud computing, and artificial intelligence (AI).
The topics of this year's forum cover innovative technologies, which are taking center-stage in reshaping the work, such as self-driving vehicles, smart cities, facial recognition technology and smart applications. All of which will have a significant impact on daily life and lead to a radical change in the national economy in the long-term.