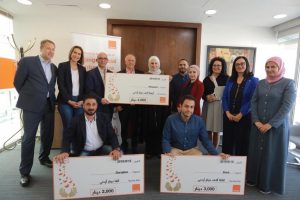 Orange Jordan recently announced the winners in the third local and ninth global edition of Orange Social Venture Prize (OSVP) 2019, in a ceremony held at the company's headquarters, where Threads Company won first place, "Darb Co." second and "Darajtee" third place.
CEO of Orange Jordan, Thierry Marigny congratulated the winners, pointing out that the selection of the first place winner took into consideration the importance of this award, as it is a recognition from the Group for the role of entrepreneurs, and the company's keenness on promoting the spirit of competition among them to deliver ideas that can turn into reality.
Marigny also thanked the jury for their efforts in applying the criteria on which the winners were selected from, in addition to monitoring projects, providing professional advice, and discussing their positive social impact and effectiveness.
Orange Jordan has localized the OSVP competition that was launched by the Group nine years ago in Paris, as part of the company's social responsibility in providing support to entrepreneurs and startups in the Kingdom, motivating them to use innovative digital solutions in developing products and services to meet the needs of the community in different areas, such as: health, agriculture, education, energy, trade, and industry.
70 projects applied for the prize this year representing all the previously mentioned sectors, 13 projects were qualified for the initial presentations, seven to the final phase, and finally three winners in 2019.
Orange Jordan has appointed financial rewards for the three winners, valued with JD 4,000, JD 3,000 and JD 2,000 respectively, and it is agreed that the winners will participate in the international version of the prize, in an attempt to win €25,000, €15,000 or €10,000 for the top three winners, in addition to an opportunity to attend the final event that will be held during the month of November in Cape Town, South Africa.
The jury included experts from the business and  entrepreneurial field consisting of: Chief Executive Officer of Abdul Hameed Shoman Foundation (AHSF), Valentina Kassisieh, Deputy Executive Director at The Jordanian Hashemite Fund for Human Development (JOHUD), Mohammad Al-Amoush, CEO at Information and Communications Technology Association – Jordan (int@j), Eng. Nidal Bitar, Director of Strategy & Partnerships at Crown Prince Foundation (CPF), Mais AlDaoud, pioneer Fida Taher and PR, CSR, and Corporate Communication Director at Orange Jordan, Rana Al Dababneh.