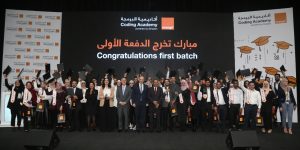 Orange Jordan celebrated the graduation of the first batch of Orange Coding Academy students on Wednesday, February 19 at the Cultural Palace in Amman.
The ceremony was attended by the Minister of Digital Economy and Entrepreneurship, Eng. Mothanna Gharaibeh, Chief Commissioner of Telecommunications Regulatory Commission (TRC), Dr. Ghazi Jbour, alongside Orange Jordan's CEO, Thierry Marigny, the company's executives and local companies' representatives.
Speaking at the ceremony, Marigny congratulated the 46 graduates and wished that the 6 months of intensive training mark a fresh start in their professional lives.
The Academy's students received training in coding languages and personal development courses, followed by a one-month internship in local ICT companies with the aim to enhance employability and decrease unemployment rates among youth in the Jordan.
The Coding Academy serves Orange Jordan's belief in the "Training for Employment" concept, Marigny said in his keynote speech, noting that 70% of the academy's students have got jobs before finishing their internships, marking a milestone in the journey of, both, Orange's Coding Academy and its students.
The academy is the first of its kind in the Middle East that was established by Orange Group, in partnership with Simplon.Co, following the footsteps of Orange's coding academies in Senegal and France, he stressed.
Marigny said that the academy will welcome the second batch of students soon, expecting strong competition between applicants who seek educational opportunity in this "distinguished" academy.
Orange Jordan's CEO talked about the company's efforts to carry out the company's Corporate Social Responsibility strategy, which is stimulated by Orange Group's strategic plan, noting that Orange Jordan is a global company with local spirit that  strives to empower Jordanians and help them benefit from the digital era's tools.
The Academy was established to meet the job market's increasing need of highly qualified programmers and to qualify jobseekers and help them ground job opportunities in a field that holds enormous potential and opportunities, Marigny added.
Rami Abu Al Samen, the Coding Academy's Manager said that the graduation of qualified participants reflects Orange Jordan's vital role in supporting youth as well as the economy, noting that the students who completed the training successfully are granted an accredited certificate, locally and internationally.
Abu Al Samen noted that this course has focused equally on developing the students' professional and personal skills by providing them with training on coding languages and personal development courses.
The Coding Academy offers youth, whether holding a university degree or not, an opportunity to receive qualitative  training in coding languages, such as Java and Python which are highly demanded by international companies. The demand on software developers is expected to escalate in the local market in the next five years, offering up to 10,000 job opportunities.