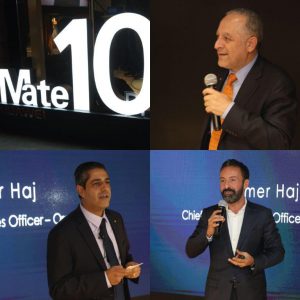 Orange Jordan recently launched the latest devices from Huawei that include Huawei Mate 10 and Huawei Mate 10 Pro. The launch of the new devices was announced during an event at Orange Jordan's Flagship store in Abdoun, in the presence of Executives from both companies, VIP customers and media representatives.
Commenting on the occasion, Orange Jordan Deputy CEO/CFO Raslan Deiranieh said: "We are proud of the strategic partnership we have with Huawei, and as part of our five-year corporate strategy "Essentials 2020" that focuses on connecting people to all that matters to them, we are keen to be the first to launch the latest and most technologically advanced devices debuting globally and to bridge the digital divide between Jordan and the world."
Orange Jordan's Chief Consumer Sales Officer, Samer Haj expressed Orange Jordan's pride in continuing its strategic partnership with Huawei, and said: "Through this successful partnership, we combine the latest products with cutting-edge technologies from Huawei with the best telecom services from Orange to bring to our customers an elevated and enhanced user experience. This step aligns with our company's efforts to further enrich our innovative offers and bundles, in order to provide customers with all that is essential to them, from more simplified and personalized solutions and services to more value-added products and benefits."
For his part, the Huawei's Vice President Mutasim Shehadeh, stated: "The Huawei Mate 10 and Huawei Mate 10 Pro support the first AI technology worldwide, along with the new version of the EMUI 8.0 based on Android 8.0 Oreo," adding that, "This technology resulted in a qualitative improvement of "intelligence" in view of the Huawei Mate 10 series, taking into account all details of modernity, luxury and flexibility."
Besides showcasing the most salient specifications of the Huawei Mate 10 Series, Shehadeh further added that the new Huawei devices are powered by the first Kirin AI processor and the largest battery worldwide, along with state-of-the-art technologies in terms of safety, speed response, connectivity, photography, battery and screen.
The Huawei Mate 10 is already available at Orange Jordan's shops, Smart Stores and the eShop, while the Huawei Mate 10 Pro will be available starting November 15th. Orange Jordan will be offering its customers the Huawei Mate 10 devices, special accessories and a chance to win a one-year mobile subscription.