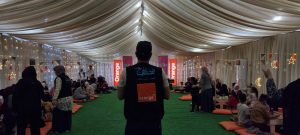 Reflecting the spirit of solidarity characterizing the holy month of Ramadan and assuming its leading role as a responsible digital leader, Orange Jordan carried out a variety of activities and chartable campaigns during the holy month in partnership with the public sector and civic institutions to provide support for those in need.
The company renewed its support for "Mujaddidun Jordan", that holds Mawaed Al Rahman during the holy month, whereby Orange Jordan covered 7,000 meals at the tent, located at Orange Digital Village, in addition to distributing 7,000 food parcels across the Kingdom.
Further charity campaigns varied to include the distribution of 1,000 coupons in cooperation with the Ministry of Digital Economy and Entrepreneurship, 100 food parcels shared in partnership with West Irbid for Special Needs Challenges Association, through the Military Consumer Corporations in the Kingdom, in addition to 100 coupons delivered to families in Aqaba in partnership with the Hashemite Fund for Human Development.
In addition to the ongoing support given by the company to Tkiyet Um Ali, whereby Orange Jordan distributes food parcels throughout the year to 91 of the charity's beneficiaries, Orange employees volunteered in the Mawaed Al Rahman hosted by Tkiyet Um Ali, providing food to its beneficiaries as well as distributing food parcels.
Orange Jordan affirmed its keenness to carry out charitable activities in cooperation with various associations, especially in the month of giving, to support families in need within the framework of its social responsibility, which is characterized by a spirit of solidarity and active participation.