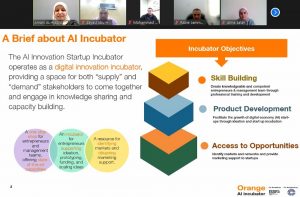 Orange Jordan held the first event to introduce the Orange Artificial Intelligence Incubator, one of its projects that contribute to enhancing the entrepreneurial capabilities of youth, specifically in AI tech-based projects. The event hosted representatives from the Ministry of Digital Economy and Entrepreneurship and incubator project owners, in addition to experts in the AI field.
During the event, Eng. Lama Arabiat, Head of the Artificial Intelligence Department at the Ministry, detailed the government's AI vision, the ministry's role in building a supportive ecosystem, and the AI policy that was approved by the Council of Ministers at the end of 2020, in addition to operative requirements to take advantage of this global trend.
Mr. Odeh Haddadin, Digital Business Sector Manager at the Ministry, noted the importance of the Youth and Technology Project, which is being implemented by the Ministry and funded by the World Bank Group, and which aims to improve digital sector income opportunities and expand government digital services.
Ms. Ola Yaghi, Acting Head of the Digital Skills Building Department, introduced initiatives supervised by the Ministry, such as the "Hafiz" program, which aims to create temporary job opportunities for youth by employing fresh graduates, who have been unemployed for the last three months, in the digital and entrepreneurial sector. The Ministry subsidizes 50% of their monthly salary with an allowance for social security subscriptions for the program's beneficiaries.
The AI incubator welcomed its first cohort in September 2021. Its one-year program focuses on three basic phases: improving technical skills, using AI in the interactive stage of product development, and opportunities, along with the other projects to expand their network in the market and with investors.
Orange Jordan noted that the activities of the incubator are due to the increasing importance of AI globally and the Jordanian policy for artificial intelligence 2020, which aims to enhance the business environment for AI, increase investment, support national startups, and encourage Jordanian companies to provide solutions and services based on AI. Orange stressed its commitment as a responsible digital leader to develop this field due to its current and future opportunities.
The incubator is co-funded by ISSF and co-designed by PSUT. It aims to increase the opportunities of entrepreneurs and development teams in the creative process and registered startups in their early stage, to enhance their skills in artificial intelligence, enable them to secure investments, and offer networking opportunities to develop solutions that serve socio-economic development.