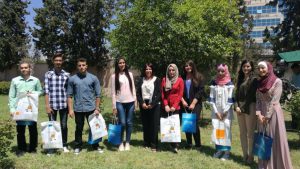 In recognition of the efforts of all Tawjihi students throughout the academic year and the achievements of top students in receiving the highest scores, Orange Jordan recently honored this year's top Tawjihi students from all governorates and in all areas of study.
Orange Jordan presented the top Tawjihi student in each of the nine areas of study with a pre-charged Orange 15 line for five years, a prize worth JD 1,180, and a Samsung Galaxy J5 Pro from Samsung Electronics – Middle East. The awards were given to the students during the Yesed Sabahak morning show on Jordan TV.
Orange Jordan also honored the top 13 students from all governorates by giving each of them a prize valued at JD 4,180, including JD 3,000 cash and a pre-charged Orange 15 line for five years, during the Helwa Ya Donya morning show on Roya TV.
Orange Jordan Deputy CEO/CFO Raslan Deiranieh congratulated the top students on their tireless efforts that led to them achieving these outstanding results, saying: "We are happy to reward the Tawjihi students of the current academic year, encouraging them to continue being at the top of their undergraduate studies."
Deiranieh stressed Orange Jordan's desire to continue supporting future generations of gifted Jordanian youth, as they will lead the transition towards further growth and future development, as education is the foundation of development in any society.
Orange Jordan Marketing Director of the Consumer Unit Naela Al Daoud said that by honoring these students, a main objective of the company's corporate social responsibility strategy, which is inspired by its five-year corporate strategy Essentials 2020, was met. Orange Jordan is committed to upholding various segments of the community, focusing primarily on education and youth, which will lead to creating more skilled and productive Jordanians, and effecting positive differences throughout society.
Orange Jordan continuously aims to develop and implement programs and initiatives that directly benefit various sectors of the community, where education stands at the forefront