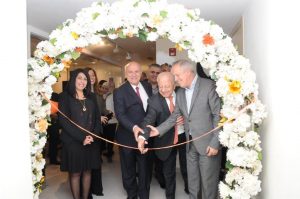 CEO of Orange Jordan, Thierry Marigny recently inaugurated the new location of the company's customer service call center in Abdali, located near Al-Dakhliya Circle. The new location will enhance the company's communication and increase its efficiency in managing its relationship with its customers, responding to their needs, and providing them with the company's offers and services in a more effective way.
The Orange customer service call center at the new location, is part of Crystel, a company specialized in managing integrated telecommunications and outsourcing services.
The new center was inaugurated in the presence of the Chairman of the Board of Crystel, His Excellency Mr. Ayman Majali, Co-Founder/Managing Director, Zeena Majali, Chief Operations Director, Rami-Al Atiyat, Chairman of the Board of Directors at Orange Jordan, His Excellency Dr. Shabib Ammari, and Chief Consumer Market Officer, Naila Al Dawoud, in addition to executives and employees from both companies.
Marigny said that this step came in the aim of increasing Orange Jordan's competitiveness and efficiency in providing logistic services, and continuing its excellence in serving its customers, through providing advanced, diverse and value-added telecommunications services and solutions that meet their different needs around the clock, affirming that it provides high-quality logistic services.
Marigny pointed out that the new center has a total of 158 employees, where Orange Jordan offers equal opportunities to all segments of society, ensuring gender equality, the inclusion of people with disabilities, and attracting employees from all governorates, in addition to employing young people between the ages of 18 and 29,  in order to reduce unemployment. This falls in line with the objectives of the "YO" campaign, which was launched by Orange Jordan, to support young people in different fields and areas.
From her side, Chief Consumer Market Officer, Naila Al Dawoud said that the new location is considered an important step in the area of customer service, which is considered to be one of Orange Jordan's top priorities, due to its spaciousness that can accommodate many employees, to meet the needs of its customers, resulting in higher customer satisfaction. The new building can be expanded in the future to accommodate the increased amount of incoming calls to the customer service center, which is currently estimated at 3.5 million calls per year. This will enhance the center's performance, reflecting positively on the company's efficiency in managing its customer-relationship and meeting their needs in the shortest time possible.
Al Dawoud also expressed her gratitude in the partnership between Orange Jordan and Crystel, which began in 2012, with the aim of providing customers with different high-quality voice services, including; mobile services, technical, commercial, sales, directory services and social media.
From her side, Co-Founder/Managing Director, Zeena Majali said: "The inauguration of Crystel's new location, which offers all of Orange Jordan's customer services, is considered as an important step to solidify the relationship between both companies".
Additionally, the new location is fully-equipped with the latest tools, offering high-quality customer service, according to the highest international standards for customer call centers.