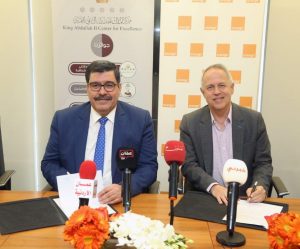 Orange Jordan signed a strategic agreement with King Abdullah II Center for Excellence (KACE), under which the telecom operator will sponsor the honoring ceremony of the winners of King Abdullah II Award for Excellence.
The signing ceremony which was held at the company's headquarters and attended by representatives of local media institutions was signed by Orange Jordan's CEO, Thierry Marigny, and KACE's Executive Director, Dr. Ibrahim Rawabdeh.
By the agreement, the company will be the exclusive telecom sponsor of the ceremony, which will be held under the patronage of His Majesty King Abdullah II, for the second time in a row.
In 2018, His Majesty King Abdullah II honored Orange Jordan for its efforts in supporting excellence as the award's strategic partner and golden sponsor.
During the signing ceremony, Marigny said that the company will sponsor the ceremony that celebrates excellence and innovation and offers the highest national level of recognition for excelling public, private and non-governmental institutions, adding that this agreement crowns Orange Jordan and the KACE's strong relationship.
"We are proud to sponsor the ceremony which celebrates the values that has shaped Orange Jordan's journey in telecommunications sector. We cherish these values by relying on outstanding employees and assuring high quality in all what we offer to our customers," he said.
Marigny stressed that the company's commitment to support excellence stems from its role as the digital partner of the Kingdom and the provider of the strongest internet. The company practices excellence by offering its customers and partners the best digital tools, supporting creativity, building sustainable future and practicing agile management.
The company's efforts to maintain the highest levels of excellence were crowned  in 2019 by obtaining several awards such as: the "Top Employer" award for the fourth consecutive year from the Top Employers Institute, Recognized for Excellence Certificate from KACE, the representative of the European Foundation for Quality Management (EFQM), several ISO certificates for effective environmental management system and Occupational Health and Safety Management systems, in addition to Tier III Constructed Facility Certificate from Uptime Institute which is specialized in studying and evaluating global data centers.
Dr. Ibrahim Rawabdeh, KACE's Executive Director, said: "We are pleased to partner with Orange Jordan for the second time in a row. We are partnering with Orange Jordan because it is a leading telecom operator in the Kingdom that shares the center's goals and work principles of excellence in performance and high-quality operations. The center is the main catalyst for a more competitive environment in Jordan."
The award is granted to outstanding institutions that compete on three categories: King Abdullah II Award for Excellence in Government Performance and Transparency, King Abdullah II Award for Excellence for the Private Sector, and King Abdullah II Award for Excellence for Business Associations and non-profit organizations.