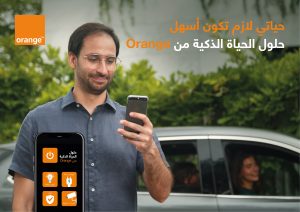 The importance of the Smart Life apps is becoming greater until it became a lifestyle that includes home technologies advancements, and Orange Jordan has recently launched Smart Life solutions, becoming the first telecom provider in the Kingdom and on a Group level for the Middle East and Africa, to launch Smart Life platform and applications under its umbrella and brand on its networks, including Orange Fiber, 4G and 4G+ the most advanced and capable to deliver all services in comprehensive offers starting from JD 5.7 per month.
Smart Life is an inclusive platform that offers all services and devices under the smart life concept, in addition to the different technical and technological support, training the technical teams to install these services to ensure best performance.
It includes exclusive designed solutions for homes; smart cameras, electronic alarm systems for doors / windows, and a smart plug that allows the users to reduce electricity consumption and monitor it remotely and effortlessly, where this service is part of the company's commitment as the Kingdom's digital partner in offering all digital solutions for its subscribers.
Orange Jordan stated that these solutions complement its services that are supported with high-speed internet, stressing that the smart solutions are available for everyone despite their network to connect them remotely and easily with their homes, enabling everyone to enjoy more effective and flexible options with high levels of security and convenience with the capability to control devices and protect their children at all times, in addition to saving energy to reduce costs and protect the environment.
The company reaffirmed its keenness on enriching the users' experiences, especially the ones related to home, as it is of high importance for families. This technology enhances the local telecom market services with the latest solutions as part of its role as a responsible digital leader in keeping people connected to what matters to them.