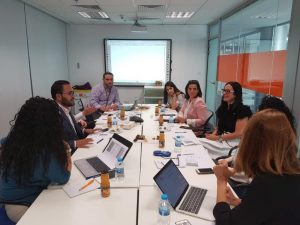 Orange Jordan recently launched its local version of Orange Social Venture Prize , targeting innovative ideas by young entrepreneurs that meet the needs of communities in various areas, as the registration for the award began last March. A committee consisting of juries who are experts in the field of entrepreneurship, selected nine startup companies from the pool of applicants to participate in the final stage who are going to present their projects before the committee of which  three will win cash prizes, along with the opportunity to participate in a competition for the global award, which will be held in November 2018.
Orange Jordan is proud to launch the local award for the second consecutive year with an aim to support startup companies contributing to social and economic development, not to mention their active contribution to digital transformation. The company also commits to supporting entrepreneurs who are keen on improving these categories in Africa and the Middle East, as Orange Jordan is confident in their creative ideas, which are positively reflected in the community.
Speaking on the occasion, Eng. Rana Al Dababneh, Director of Public Relations, Corporate Social Responsibility (CSR), and Corporate Communication at Orange Jordan, said: "We are very proud to launch the local version of the Orange Social Venture Award for the second year, as it will benefit entrepreneurs, and we are confident in the ideas and innovations of the companies participating in the award".
It is worth mentioning that the jury consists of: Valentina Qussisiya, CEO of Abdul Hameed Shoman Foundation (AHSF), Deputy Executive Vice President of the Jordanian Hashemite Fund for Human Development (JOHUD), Mohammad Al-Amoush, CEO of The Information and Communications Technology Association of Jordan (int@j), Eng. Nidal Bitar, Mais Al-Daoud, Director of Strategy & Partnerships at the Crown Prince Foundation (CPF), and the pioneer Fida Taher, all of whom expressed their gratitude for being part of this event, and how proud they are with this award and Orange Jordan's support for Jordanian entrepreneurs.
Orange Social Venture Prize is in line with Orange Jordan's corporate strategy, "Essentials 2020" which aims to shed light on local talents and invest in them, particularly entrepreneurs whom Orange Jordan is committed to supporting through offering training programs, financial support and expertise to help transform their ideas into reality and contribute to the development of the local community.