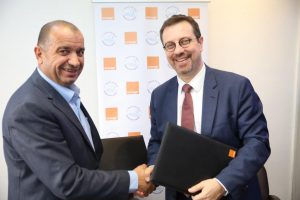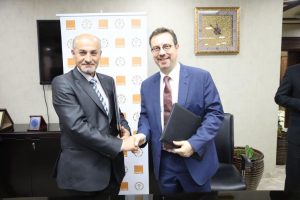 Orange Jordan recently signed two strategic agreements in Irbid governorate with the Greater Irbid Municipality and Yarmouk Water Company. Under these agreements, the company will provide them with a range of global IP-based networking solutions (IPVPN), in order to develop and facilitate the mechanism of communications within departments and with other branches.
On behalf of Orange Jordan, the two agreements were signed by its CEO Jérôme Hénique, with the attendance of the Chief Enterprise Officer, Sami Smeirat, while the Greater Irbid Municipality and the Yarmouk Water Company were represented by Mayor Hussein Bani Hani and General Manager Hassan Hazaymeh respectively. The signing came during Hénique's and Orange Executives' field visit to Irbid governorate to follow-up on the services provided by the company to the Municipality and the Water Company, where they visited several offices.
The agreement signed with the Greater Irbid Municipality included, upgrading of Internet lines for increased efficiency and speed in the areas covered by the agreement and linking the areas of the municipality with its external departments, which will improve the exchange of information and provision of services. While the agreement, signed with Yarmouk Water Company included, linking the main branch of the company with its other branches in order to continuously facilitate their communication mechanism.
Orange Jordan expressed its pleasure at signing these strategic agreements, underlining that it is dedicating all its efforts to developing its services provided to government departments, municipalities and private institutions. As the strongest provider of fast internet in Jordan, Orange Jordan constantly seeks to launch the latest technological innovations and the most advanced and best telecommunications and business solutions to create digital transformation of all government and private institutions in the Kingdom, which is in line with the pillars of its five-year corporate strategy "Essentials 2020" that aims to connect people with all that is essential to them