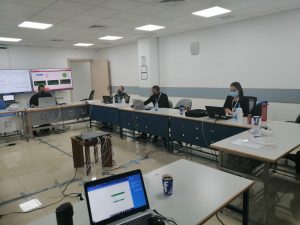 The Independent Election Commission (IEC), and Jordan Telecom Group – Orange provided connectivity for the 19th parliament elections, which were held under the supervision of the IEC, as they linked 1,845 voting and counting centers across the Kingdom, and more than 8,500 voting points in the main election operations center of the Independent Election Commission.
According to the Group, each location was linked to three communication services through its operations centers that were allocated to the electronic project for parliamentary elections, through its network that included about 8,500 computers connected to the main and backup centers, which were equipped to complete the process of transferring and exchanging data efficiently during elections.
The group highlighted the coordination and cooperation with IEC, according to which, during September, it trained around 500 staff from the Ministry of Education and employees on electronic link systems from the southern, northern and central regions, and provided them with the skills to train others in preparation for the elections by training more than 9,000 employees of the Ministry's staff on how to operate the electronic link, starting from voting, sites and ending with the main and backup information centers of the independent commission.
The Jordan Telecom Group – Orange allocated more than 500 employees and experts to work on the electronic link project throughout the period of preparation for the elections, in addition to establishing a special operations place to manage and support all field operations during the elections.
Chief Enterprise Officer at Orange Jordan, Eng. Sami Smeirat, stated that the partnership between IEC and Orange is a deep-rooted partnership, where the group handled linking the parliament elections electronically previously efficiently, and the company organized the entire process across the kingdom remarkably.
Smeirat assured that the continuous work between the two parties affirms Orange Jordan's position as the Kingdome's digital partner, and the network's advancement, and Orange Jordan's vast technical and human capital's capabilities to organize the electronic connection for this significant democratic event.
Chief ITN & Wholesale Officer Eng. Walid Al-Doulat, said that the Group connected the polling & counting centers with the main & secondary information centers through a private, closed and secure network in accordance with the highest standards of security and protection, in addition to providing backup services in all centers to ensure a secure and reliable connection with unprecedented speeds and the ability to absorb manage the vast amount of data that was transferred between the units and electoral centers.
IEC affirmed that the cooperation with Orange Jordan this year is a continuation of the strategic partnership, which resulted in conducting the electronic connectivity operations in previous elections efficiently, by employing superior technical and human resources and leading services in order to achieve the requirements of this democratic process, praising Orange Jordan in playing an effective role to support the Kingdom in this national event, stemming from its commitment to everything that matters to Jordanians and contributes to the progress of the nation.